Main Content
Protectors
Protectors
Shelter the weak. Make the strong.
A pack sworn to defend the land of all evil, the Protectors are whispered throught the woods like an ancient legend. Led by the powerful alpha Maeve, a descendant of shapeshifting human witches, who's family has always been dedicated to living in harmony with nature. Sworn to use their power responsibly, to never kill without need for food or self-defense, to be more in syntony with the forest rather than human society. These and their spawn are the only ones to carry human names, while the entrusted wolves that pledged to defend the land with them are named after their territory, nature or their strongest physical attribute. Wolves born from a shifter and a wolf do not have human forms, but possess a weak wield of magic.
This is a pack inspired by the movie Wolfwalkers, and majorly lore-based.
Some wolves (especially human named ones) may have descriptions that tend to a story.
Alpha Maeve
Mate
Midas
| | |
| --- | --- |
| Played By | Tōrō 🏮 (#34484) |
| Territory Biome | Deciduous Forest |
| Cave Slots | 5 / 5 |
| Pack Adults | 21 / 21 |
| Pack Pups | 3 / 105 |
| Immortal Wolves | 0 / 1 |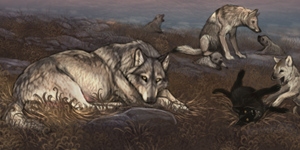 Nesting / Pupsitting