Main Content
Lunar Event #6! (July 16th-22nd, 2021)
Lunar Event #6! (July 16th-22nd, 2021)
Posted 2021-07-15 22:00:27 (

edited

)
The Lunar Event Begins! July 16th, 00:00am WDT through July 22nd, 11:59pm WDT
If you're new or you need a refresher on how the Lunar Event works, we recommend reading the Lunar Event announcement news post located here:
LINK!

Now, we'll move to the part about the event updates! :D
New Shop Rewards and Wipes!

Losna Markings are joining the Losna set this week.  The applicator (1 use) costs 250 LT and there are 4 markings within.  You can pick the slot, marking, and opacity when using the applicator on your chosen wolf.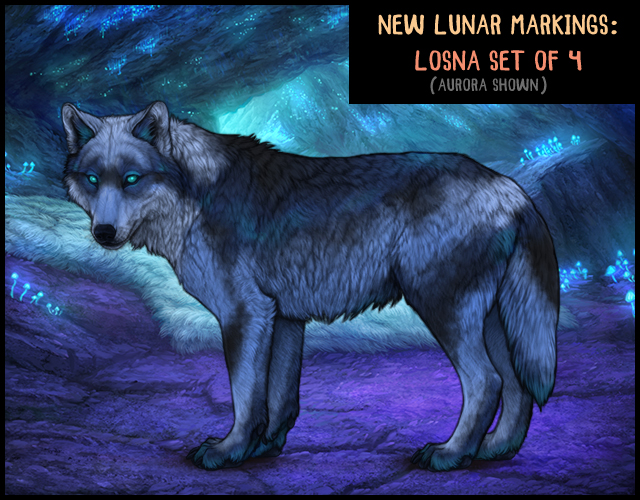 Losna Markings come in the following shapes:
- Aurora (new!)
- Cross
- Inverted Agouti
- Shepherd Heavy

The Losna base and Luxsnei claw, nose, and skin set are available as usual this week.


This event's unique Lunar eye applicator is Lumino!  Lumino eyes can pass Lumino and will fail to Blue, Ice, Green and Olive.


Notice: The base, marking, claws, nose, and skin applicators that are available this week will be retiring after this month's Lunar event.  They will appear all at once during the next real life Lunar event of our choice.  The eye applicator retires this week, but it can also be found again in the Lunar Shoppe when a real life Lunar event occurs.  We will put out an announcement in advance when a real life Lunar event is approaching!
A special seasonal Blue Moon is coming this August.  This might be the first real life event we'll try out!
New Lunar Shoppe Offers!

This month, we are adding two backgrounds, available universally in all biomes!

  Soft Lunar Cave

  Giant Mushrooms
New Lunar Enemies!

We've added one unique enemy to each biome, as well as one universal enemy, totalling 13 new moderate opponents to fight!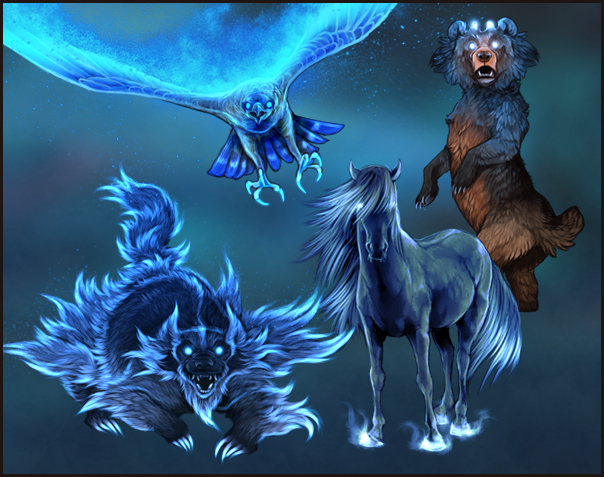 Universal: Lunar Osprey
Grasslands: Lunar Goat
Deciduous Forest: Winged Deer
Mountains: Juvenile Lunar Bear
Riparian Woodland: Juvenile Lunar Alligator
Prairie: Lunar Mustang
Desert: Giant Scorpion
Swamp: Growth Pelican
Rainforest: Growth Capybara
Coniferous Forest: Ancient Badger
Taiga: Lunar Wood Bison
Tundra: Lunar Malamute
Glacier: Crab Dolphin



You might want to keep some of the trophies you receive rather than sell them—they could start becoming useful within the next few months, as we'll expand the possible drops and add recipes! :O
Posted 2021-07-15 22:01:06

Hell yeah!


Orion
#6210


Posted 2021-07-15 22:01:15

Love the new marking!

Maggles
#30324


Posted 2021-07-15 22:01:19 (

edited

)

HELLAAAAAA

im absolutely obsessed with aurora


🌘 Kas and Zy
#16535


Posted 2021-07-15 22:01:33

Yay News!!


Firefly
#4861


Posted 2021-07-15 22:02:42

Loving these events :) Losna's my fav base.

Pixality
#1157


Posted 2021-07-15 22:02:57

yaaaaay love me a baby alligator

yuli
#33308


Posted 2021-07-15 22:03:08

Yess so excited! Really enjoying these events! Keep up the great work guys!!


WolvesOutcast
#17916