Main Content
Lunar Event #32! (September 15th - 21st, 2023)
Lunar Event #32! (September 15th - 21st, 2023)
Posted 2023-09-14 21:01:53
The Lunar Event Begins! September 15th, 00:00am WDT through September 21st, 11:59pm WDT
If you're new or you need a refresher on how the Lunar Event works, we recommend reading the Lunar Event announcement news post located here: LINK!
Now, we'll move to the part about the event updates! :D
New Shop Rewards!
Penumbra Markings are joining the Penumbra set this week.  The applicator (1 use) costs 250 LT and there are 4 markings within.  You can pick the slot, marking, and opacity when using the applicator on your chosen wolf.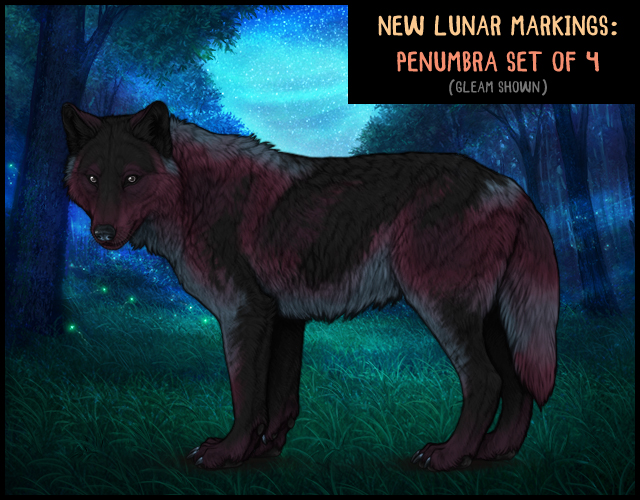 Penumbra Markings come in the following shapes:
- Aurora
- Cross
- Gleam New!
- Pulse
The Penumbra base and Penumbral claw, nose, and skin set are available as usual this week.
This event's unique Lunar eye applicator is Halo!  Halo eyes can pass Halo and will fail to Black and White.

Notice: The base, marking, claws, nose, and skin applicators that are available this week will be retiring after this month's Lunar event.  They will appear all at once during the next real life Lunar event of our choice.  The eye applicator retires this week, but it can also be found again in the Lunar Shoppe when a real life Lunar event occurs.
New Lunar Shoppe Offers!
This month, we have added 9 new decors, available universally in all biomes!  They are Lunar recolours of the Elbow Tufts decor which appeared during the Cataclysms event.

Elbow Tufts [Turquoise]


Elbow Tufts [Light Blue]


Elbow Tufts [Blue]


Elbow Tufts [Dark Blue]


Elbow Tufts [Dark Green]


Elbow Tufts [Tyrian Purple]


Elbow Tufts [Purple]


Elbow Tufts [Pink]


Elbow Tufts [Lavender]
Posted 2023-09-14 21:02:45

AHHH LOOK AT THE NEW MARKINGS

Blackwidow
#43418


Posted 2023-09-14 21:03:01 (

edited

)

Edit: THIRD.
THIS HAS NEVER HAPPENED. WOOHOO
Moon
#50329


Posted 2023-09-14 21:03:59 (

edited

)

First !! New decor looks lovely
(Edit: not first but still early haha)

Cadence
#91818


Posted 2023-09-14 21:04:17

Yay! Gkmtjpfsttsgjrgnbwqkmdjthjmw i didnt realise it was this soon :3

🕷🎃LollyBugzLoopz🎃🕷
#36307


Posted 2023-09-14 21:04:56

WOOHOOOO YESSSS

Charmie
#89610


Posted 2023-09-14 21:05:09

OOH THE EYES!!! Super excited !!
aurababora
#75169