Main Content
Ashfall Clan

A rambling clan who roam between the taiga and glacier  - many have autumnal fur, and a few have been touched by the Dreamlands. Founded by Ashfall, whose name they all carry forward with them, they are now led by Chance Meeting.
Notes for me: June 18th - 25th is the next lunar event!

Hunting Parties: The First / The Second / The Third 🌸 / The Fourth 🍄 / The Fifth 🏵️ 
Breeding Partners:
🤟🏿🤟🏾🤟🏼Luv007🤟🏼🤟🏾🤟🏿 (#32705) & Princeling

Contact me if you're interested in becoming breeding partners too! I really like helping others with their projects, however I can.



Raising and chasing merle wolves and warm medium T3s - foxes, wulfenites, and mojaves! Thanks to everyone who took part in the February T3 Chasing Event, and especially Swiftla (#764), for Chance Meeting.

 I'm happy to now be able to chase some T3s myself.


Lead Wolf Chance Meeting 💫
Friend
Speedwell ✨
| | |
| --- | --- |
| Played By | Sundust (#9932) |
| Territory Biome | Taiga |
| Cave Slots | 7 / 10 |
| Pack Adults | 87 / 94 |
| Pack Pups | 64 / 470 |
| Immortal Wolves | 0 / 0 |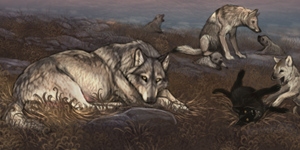 Nesting / Pupsitting