Main Content
Ebonfeather
feel it?
... the unnatural ambiance
There's this... stillness within these woods. A permanent fog lingering against a cold ground. No sounds dares break the ever lurking quiet; not a bird, nor a cricket or frog, not even the lone owl who sits idly within the towering white pines. Everything seems to know better, know about something that visitors do not. Some anomalous entity that resides here, stalking through the wildwood and venturing wherever it pleases. When left alone, it seems harmless enough but when bothered... Mm, the blanks are fairly obvious, are they not? Tread lightly, be wary, stay vigilant; and if you hear your name, no you don't.
Ritual & Ethics
... the territory oversight
The reigning family, the Ó Broin clan; children of ravens and friends of the dark timberland they thrive within. Someone of the Ó Broin bloodline will always rule the pack, they have to. If a fitheach a rugadh is not in command, then it will come. Only an ó broin, a ravenborn, can ease the temper belonging to the entity, the Omen. It can be an unforgiving force, lacking mercy and empathy for anything and anyone it deems undesirable. It is a dangerously deadly protector of the forest; fierce and loyal to its duties and the family that exists along side the phenomenon.
King
Tuathal Ó Broin
For Stud
Mochán
| | |
| --- | --- |
| Played By | Ravencore (#9129) |
| Territory Biome | Coniferous Forest |
| Cave Slots | 6 / 10 |
| Pack Adults | 27 / 30 |
| Pack Pups | 26 / 150 |
| Immortal Wolves | 1 / 1 |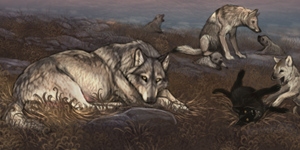 Nesting / Pupsitting