Main Content
Underdark Pack
2 wolves in this pack may leave due to neglect!
3 adolescent wolves in this pack may leave at the next rollover due to overcrowding!
All my permanent wolves have their personality, gen, base tier, pair bonds, and roles in footnotes.
❤️ Romantic, ⭐️ Friendly, 🔥 Aggressive, ☯️ Stoic.
🌠 Wolves blessed by the stars: Skystar's Children who have stayed in the pack, Skystar's father was a son of Ravenwalker so I need to make sure I don't breed her daughter's to Ravenwalker son studs. I will use this ⚔️ to show other Ravenwalker descendants in my back, again to avoid inbreeding anywhere.
✨️ Wolves descended from Fadedfrost, again to avoid inbreeding cuz it's almost happened too many times.
Wolves for sale:
You may offer or message about any of my wolves for sale to ask about offers or reservations for pups not yet weaned. Wolves on TC are ofc available for private offers as well! My trades
•I do have the right to tell you certain wolves are not available as they are permanent residents or R&C I want to get back, but please don't be afraid to ask about anyone.
•I usually try to train pups before selling them so they get their stat boost. If you message to reserve a pup for sale I will either send them the day they wean or ask a small upcharge for keeping them until adolescent age to pup train them.
•I will take the best offer on a wolf/pup if multiple people are interested in the same wolf, i will put the best offer in the pups bio and allow you to message me with a different offer if you want to out offer someone. If I agree to a specific price with someone then deal is final and you cannot outbid once a pup is marked as SOLD.
•Ask about as many as you want, I don't have a limit to the amount you may want to grab.
•Don't be shy about the adolescents either!
•Any wolves for sale that do not get traded WILL be chased regardless of; stats, gen, base tier, mutation, or rare traits
Giveaway guidelines: These are not too strict I promise! Do not be rude and follow the guidelines below, if you do not do this you WILL be ignored.
~Giveaway pups/wolves may be in one of these caves: Nursery (plus lead wolf pups that fall under what you can ask for), Apprentices Cave, Quarantine, and sometimes my Unsorted.
~Please send a pups LINK when asking, if you are unable please give the best description possible. (G, T, base, mom, stats, any combo of those)

I will usually have pups I do not want, feel free to message me and ask about any pups under the guidelines! I am happy to reserve pups for people, but if the gift they come in isn't claimed and expires they will be taken back and either sent to the enclave or given to another interested player. ANY unwanted pup not claimed goes to the enclave the day they wean, I am not wasting my resources keeping them in my pack if no one wants them.

●You MAY ask for free: enclave pups, maybe pups, any named free or giveaway, R&C free to ask, new puppy's, and sometimes new adopted puppy's.
●You may NOT ask for free: T3's, T*'s, mutations, R&C (unless stated you can ask about them), or pups with proper names. Mother's are NEVER up for negotiation. (I can't believe I had to add this)
●You may OFFER for: Wolves that dont fit this criteria. Refer to "Buying Wolves" above for more info!

⚠️In addition if you have obviously not read my guidelines and ask for wolves for free who are NOT free, I will ignore you. I've been asked too many times about getting very valuable wolves for free.⚠️

•There is no limit to how many you can take, if you want them ask!
•With New Puppy's some I haven't gone through but if it's not a T3, T*, or mutie it's a good chance their free, don't be afraid to ask!
•If a pup of a carrier mutation is waiting for a test you may ask about them, if they are not a carrier they can be a free adoption, but if they are a carrier then they will be available for sale.
•Also once you have the pup(s) they are yours to do whatever with, I am not one of those people that when you get rid of something from giveaway I take it personally.
•All of these things apply to my adolescents too!
•Do NOT come and complain about if you didnt claim a pup in time, I have limited resources and cannot keep unwanted pups for longer than a few days (when the gift expires)!
⚠️In addition if you have obviously not read my guidelines and ask for wolves for free who are NOT free, I will ignore you. I've been asked too many times about getting very valuable wolves for free.⚠️
Lead Wolf
🌠Skystar🌠
For Stud
✨️Fadedfrost✨️
| | |
| --- | --- |
| Played By | ⚔️Ren⚔️ (#87527) |
| Territory Biome | Swamp |
| Cave Slots | 7 / 10 |
| Pack Adults | 91 / 91 |
| Pack Pups | 92 / 455 |
| Immortal Wolves | 0 / 1 |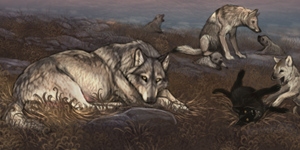 Nesting / Pupsitting