Main Content
Moirai Pack
93 wolves in this pack may leave due to neglect!
2 adolescent wolves in this pack may leave at the next rollover due to overcrowding!
#Moirai Lore#
A mountain pack upon inception, the Moirai move north in the summer and fall, then often south in the winter. They are tough, their line a combination of fierce hunters, brave scouts and determined pupwatchers. Their herbalist travels far to find remedies for everything that ails the pack, knowing many cures which slake for a time the constant struggle from death's black jaws. Occasionally the Moirai do travel north in the winter, but that is only when the pack is many members strong and their leader confident.
Leading the pack for a time is Big Chungus, the lone interloper that charmed Kiana's daughter, Graham Biscuit, and now co-rules with her.
"All that is gold does not glitter, Not all those who wander are lost; The old that is strong does not wither, Deep roots are not reached by the frost."

― J.R.R. Tolkien, The Fellowship of the Ring
Art by Websteak!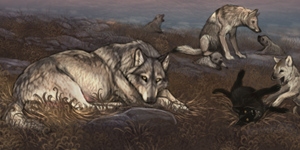 Nesting / Pupsitting