Main Content
Vidar Pack
Any puppies with a ❌ are free, message me if you would like one and I'll send them to you when they are weaned.
Welcome

Mainly breeding for stats right now, will potentially breed for certain colors later.
About

Founded by Shade, started in the forest before moving through many areas to settle in the Rainforest. Shortly after arriving in the rainforest Shade retired from being Alpha so a stronger wolf, Diablo, could lead.
Alpha
Diablo
Beta
Mayhem
| | |
| --- | --- |
| Played By | NightWolf (#68934) |
| Territory Biome | Rainforest |
| Cave Slots | 7 / 10 |
| Pack Adults | 86 / 108 |
| Pack Pups | 74 / 540 |
| Immortal Wolves | 2 / 2 |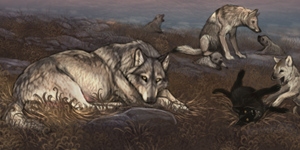 Nesting / Pupsitting