Main Content
Great Grond Pack
As you walk through the cold Glacier, you see a mysterious gray wolf in the distance. You walk towards it, feeling your fur stand on end.
"Welcome, young wolf. I am Grond from the Great Grond Pack. Please stay as long as you like. We are a friendly pack and always love to welcome new wolves whenever possible.
Each of these wolves have a fantastic personality. My book keeper, Zebby here has written out their bios. Don't mind her, she's abit peppy." Alpha Grond points his nose over to the platinum fox who was scribbling on a log with a claw.
Once the fox sees you, she pipes up and trots over, her tail wagging happily. Normally foxes would fight or flee, however, this one seems to trust you.
"Hi!!! Is this a new packmate! Sweet! This is so amazing! I'm Zebby!"
You nervously explain that you just stumbled upon the pack and are not planning on staying. Zebby seemed disappointed for about two seconds before piping up again.
"That's okay! Have a look around! Meet the rest of the pack! Explore their stories and bio! I am always updating them as the pack grows. Enjoy your stay!" Zebby sticks her tongue out goofily before going back to her writing log.

What I'm working on:
Trying to get my pack back in order.
Wishlist;
-mutated wolf
-GC (could always use some)
-SC (desperately need some to bring wolves back)
(Went on a hiatus for a while and am now "starting fresh" but not completely over. I lost a lot of wolves, incuding some of my best, but with every bad thing that happens, something good always comes out of it!)
Alpha
Grond
Mate
Faux
| | |
| --- | --- |
| Played By | JewelFyrenation (#48628) |
| Territory Biome | Glacier |
| Cave Slots | 7 / 10 |
| Pack Adults | 35 / 42 |
| Pack Pups | 21 / 210 |
| Immortal Wolves | 0 / 1 |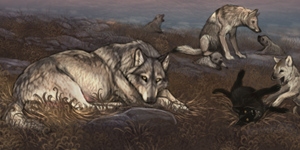 Nesting / Pupsitting