Main Content
Souls of Redemption
༻SOULS OF REDEMPTION༺



I
t feels as though it's been moons since your journey began. You were beginning to wonder if the place you had been searching for was real all along; although you have heard stories of this sacred land, passed down for generations, no one has truly ever been sure that it even existed. As you feast your eyes on it's vast expanse, you are overcome with a sense of overwhelming enchantment. Your tired paws feel the earth beneath you, soft and cool. You breathe in the air around you, cold and crisp. At that moment, you realize you've no doubt arrived at your long-sought destination.
T
here are tales about the wolves who live i here.  Surviving in this harsh wilderness is never guaranteed. Thriving here is akin to folklore - no one who is an outsider truly knows whether or not such a thing is even possible. When you set out on your journey, however, you took this in mind and were ready to risk your life at the cost of a grander future for yourself. No turning back now. 
You think of your birth pack and wonder; would they have made it as far as you have?
W
ithin an instant, you are shaken from your thoughts in an instant as the distant howl of wolves pierces through the misty veil. A shiver runs along your spine and your hackles raise, instinctively. Your eyes dart over the landscape ahead of you, scanning for something amongst the towering peaks of coniferous trees. They all seem like one gargantuan mass, shrouding what lies within from the outside world. It leaves much to your imagination.  And then - somehow, you're startled yet again by the sound of a deep, guttural snarl. Ears splaying against your head, you spin around, tail lurching beneath you
submissively.
J
ust ahead of you stands a large she-wolf, her lips peeled back in a threatening display. Her tail is raised high, and she is poised to respond quickly to whatever your next move will be, passive or aggressive. Standing far behind her are several other wolves, some watching eagerly, waiting for what will happen next. Others are poised for an attack, just as their apparent alpha. As your attention turns back to her, she speaks, confronting you. 
"
I
f you are here to lead danger to our pack, you will not leave with your life. I will not take risks any longer. But...if you're looking for sanctuary, I may be able to offer you safety. What say you, stranger? Tell me where your heart resides."
T
he choice is yours, traveler. Welcome to the land of Yavai.
CURRENT GOALS

1.  Get max territory
2. Breed a lethal mutie
3. Open my art shop
4. Breed albi/mela TIII
5. Craft Fox base applicator
STUD DISCLAIMER
I have three breeding males and rotate every 2 weeks! If there's someone that you'd like to stud to but they are unavailable, please DM me so I can let you know when they are active again. I will be happy to keep you informed and reserve a slot for you. My current rotation includes Iscariot, Apollo, and 
Lýkos.
Alpha Tala
For Stud
Draven
| | |
| --- | --- |
| Played By | Tala (#4451) |
| Territory Biome | Coniferous Forest |
| Cave Slots | 5 / 5 |
| Pack Adults | 47 / 48 |
| Pack Pups | 5 / 240 |
| Immortal Wolves | 1 / 3 |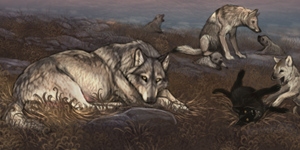 Nesting / Pupsitting