Main Content
Half-Light Pack
*brooklyn nine-nine noises* look at this gang of idiots! and some not-idiots but my point still stands.

Welcome to the Half-Light Pack! Founded by Sundown, this feral gang of pups is used to hunting so much they can't eat it all! Newcomers who arrive before night falls receive a good night's sleep and a still-warm meal before being sent along their way, or stay, if a pack member takes a liking to them. Be careful, though. Sometimes... wolves go missing.

The current leader of the half-light pack is the ever-capable Solitaire!
Pack Leader
Zenaida 🕊
For Stud
Kestrel 🐿
| | |
| --- | --- |
| Played By | orderup (#35470) |
| Territory Biome | Prairie |
| Cave Slots | 6 / 10 |
| Pack Adults | 34 / 36 |
| Pack Pups | 19 / 180 |
| Immortal Wolves | 0 / 0 |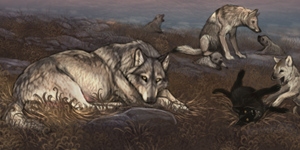 Nesting / Pupsitting