Main Content
Mourning Midnight

◆
I see now that the circumstances of one's birth are irrelevant. It is what you do with the gift of life that determines who you are.

◆





code by #202

☆✧~☾~Mourning Midnight~☽~✧☆


With the Moon as our guide, we howl as one

A chill shudders down your spine as nightfall takes over. Darkness shrouds you as you tread steadily through the forest seeking a safe resting spot. It may have been unwise to let it get so dark, but with nowhere to shelter there is no choice but to continue

As the trees start to thin a walkway reveals itself. Following the well weathered path and the sound of lapping water you eventually reach the banks of the river Taiga.
Pausing to wet your parched throat, the feeling of being watched overcomes you. The fur on your neck bristles as the air seems to shift. A cacophony of keening cries carries across the still river, voices belonging to wolves lamenting the moon.

As the wolves sing, the moon peeks from behind the clouds, breaking the darkness with her soft touch. The sound swells and rings in your ears, and just when you think it won't end, the song tapers off leaving an echo behind.
Wolves begin to emerge from the trees behind you. Some had coats that blended with the shadows, some had eyes that gleamed bright with moonlight. And way in the back were wolves that looked as if they one with the night sky itself. One of these wolves breaks the ranks to greet you.

"Welcome, Traveller" she says, her voice like nectar. Her violet eyes seeming to peer into your naked soul.

"Rest your paws in our dens, quench your thirst from our river, and cure your famine with food from our stores. We seek no conflict, only offer solace for those who have need. Stay as long or as little as you'd like, for this is our home, and for now it can be yours..."

Pack Lore

The Wolves of Mourning Midnight are heavily influenced by the Dreamlands and the Moon. Most members who stay long enough experience changes to their appearance and abilities. Some gain darker shades to their coats, some develop spiritual or supernatural abilities. Some are born with gifts, the ability to cross into the Dreamland unattended, or with "Spirit Eyes" - those who can see charged spirits outside of the Dream Realm.
Wolves to note:
Vega Rune - Lead Wolf. Raised in the Dreamlands by her Mother, Delta Rune, who was a natural born Realm-Crosser.


Erebus - Breeding male, developed a supernatural defence mechanism to protect the pack from outsiders. He uses this gift to incapacitate intruders.


Novafrell - First T3 born into pack, a second generation Iridium. Lore to come soon.


Astarte - The aggressor. A force to be reckoned with. If Erebus doesn't get you first, your fate will be challenged.


Come back soon! I'll be updating when I find the time!
Lead Wolf
Vega Rune
For Stud
Erebus [G2]
| | |
| --- | --- |
| Played By | wink (#26881) |
| Territory Biome | Taiga |
| Cave Slots | 5 / 10 |
| Pack Adults | 18 / 22 |
| Pack Pups | 7 / 110 |
| Immortal Wolves | 0 / 0 |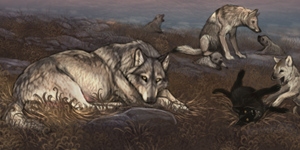 Nesting / Pupsitting