Main Content
Blue Tarn Pack
Blue Tarn Pack
Currently nestled in the lower slopes of the great mountains to the west in a large stretch of prairie. The pack are a bit nomadic and frequently travel between the Upper mountain ranges and all throughout the prairie lands.
The Blue Tarn Pack was founded by Akantha and Kinapak. Two wolves with vastly different backstories who joined together in order to survive in this vast wilderness and carve a place for themselves.
Birds are a strong symbolism for the pack, believing that they are their ancestors reincarnated to watch over them from the skies. Finding a feather or other remnant of a bird is seen as a sign from their ancestors and one should adore said item on themselves, or decorate their den with it to appease them. (ie. finding a feather after a successful hunt would be a blessing or alternatively finding a bird skull or other remnant of death is a bad sign) Killing any sort of birds is strictly prohibited and the desecration of any remains is sacrilegious.
The pack is still in its infancy thus not all the members follow these ideals as thoroughly which has cause some conflicts amongst the members. Tensions have grown quite a bit as of late and as Akantha grows older she worries how the pack will continue after she is gone or if everything will fall apart once the day comes, but only time will tell….



♥; Romantic | ♦; Friendly | ♣; Stoic | ♠; Aggressive
Personal Rules
•I'm weak and can resist so my den is mixed colors now

•No visible inbreeding
•Heirs must be a pup from the former leader/herbalist. Studs can be from anyone.
•Always aim for improved stats.
My Custom Decor

Ruffled fur Tuffs [Dark]

Ruffled fur Tuffs [Light]

Requiem's Reign

Au Naturel Paints [Blue & Green]

Oomailiq's Embellishments

Silken Cheeks [Dark]

Flirtatous Gaze

Scattered Flowers [Blue]

Scattered Flowers [Pink]
Working on member lore atm, wolves with this symbol;

have bios!
Pups/Adols in Outlanders & Dispersals are available for trade/sale, DM me if your interested in one, if not they'll be chased when their of age <3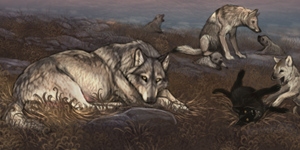 Nesting / Pupsitting