Main Content
Navigators
The Navigators
The Navigators look to the skies for
guidance
 -- every pack member is trained in celestial navigation since adolescence, the tradition itself stemming from the observant pack founder Alioth.
Their camp sits at the foot of the mountains, around a gentle and shallow river that flows through a verdant dell. Most of the pack are sentries, tasked with keeping dangers out of the camp and looking out for each other. 
When wolves spend their 12th moon in the pack, they are required to travel to the top of the nearest peak alone as a rite of passage; it is the closest to the starred heavens that guide their ways. They are then to use what they have learned as star-watchers to find their way back; wolves who make it back are accepted as a part of the pack and will be allowed to stay forever; those who decide to leave or are unable to return to the pack will carry on to master knowledge beyond the sun and the stars. 
Seer's Willow
On the banks of the river grows a giant white willow known as
Seer's Willow
. Legend says that it sprouted from the grave of an ancient soothsayer wolf. The pack's herbalists Arneb and Alkes work under its
peaceful
 shade. The flowing water works well as a soft
serenade for those who are anxious; wolves gather and lay down by the Willow to wind off and relax after a busy day.
Falcon's Glade
Falcon's Glade
 is a clearing on the outskirts of the forest that shelters the camp
, 
named by Gienah after seeing the constellation 
Aquila
 on the night the first hunting party, 
The Talons
, was formed
. The opening marks the entrance to the pack's hunting grounds, a vast grassland with a lake that attracts prey of many sizes. 
It is where the hunters regroup and prepare for their next hunt
.
The Flower Fields
The Flower Fields is a grassy field near camp, 
specifically
 chosen and monitored by herbalist
Arneb
for its pansy community that flourishes in the warmer seasons. E
xpecting and nursing wolves
 occupy the hidden caves within the ground, made by founding members 
Mizar
 and 
Polaris
.
Breeding wolves who double as s
itters (known as "nebulae") 
instruct and entertain weaned pups before they head off to adventures ahead.
The Snowy Steps
Several wolf-lengths downstream from 
Seer's Willow
 is a rocky cascade with a short fall, dubbed 
The Snowy Steps
. Adolescent wolves spend the majority of their time here, as the exposed bedrock provide the youngsters with ample space to play
. A wolf reaching 24 moons of age leaves the Steps and becomes a sentry if they are not chosen for a specific role. 
Leader Merak ♡
Featured Wolf
Larkspur ☆
| | |
| --- | --- |
| Played By | aikarasu (#17502) |
| Territory Biome | Coniferous Forest |
| Cave Slots | 5 / 5 |
| Pack Adults | 26 / 32 |
| Pack Pups | 13 / 160 |
| Immortal Wolves | 0 / 0 |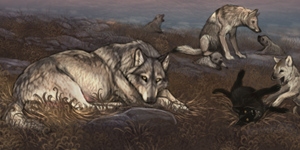 Nesting / Pupsitting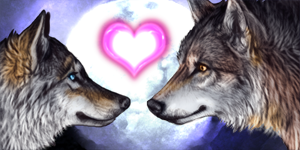 Breeding