Main Content
Nightfallers
Since this has been an ongoing issue, please do not DM about my collection of R&C wolves sales-wise, as I have no intent of selling them anytime soon. You will more than likely be ignored or temp blocked by me because of this. Giveaways are an exception, but only if pups are listed as such (named "Giveaway" or placed in my Giveaways Cave).
~~~~~~~~~~~~~~~~~~~~~~~~~~~
Daily Goals:
Feed/Play with all wolves
Satisfy the snake
Constant hunting/scouting
~~~~~~~~~~~~~~~~~~~~~~~~~~~
Long-Term Goals:
Buy Pup Stages
Obtain a T3
Find replacement leader
Fully customize and ready Gryphon for stud slot
Breed a 400+ stat pup within the pack
Breed a 500+ stat pup within the pack
Breed a 600+ stat pup within the pack
Breed a 700+ stat pup within the pack
Fully deck out Pride
Breed a G2 Bronze
⬇️
Train Up G2 Bronze For Stud Role (Deck Out When Ready)

Breed In (Or Find If Extremely Lucky) Raffle Eyed Muted Dark T3 (Low-Gen) And Make Stud
~~~~~~~~~~~~~~~~~~~~~~~~~~~
Pack Lore
You pound your paws against the dampened earth, the scent of dew filling your nose with a more calm delight. Although it hadn't been the best time to think happy thoughts, you're trailed by a swarm of wolves behind you, their dark pelt reflecting the light of the moon. Your breathing is shaken, but enough to stay steady as you bound along in full escape. A brown wolf, who you've found to be your friend in this chaos, trailed behind you in your support.
"And stay out!" A wolf would call out to you as you pass the border while you and your companion kept on running. The wind grew more crisp as you reach the near outskirts of the grasslands, a land you once called home in your pack. You look to your companion for some sort of guidance, but they're in as much shock as you are.
"What are we going to do, Fallow? We've been outcasted. We have nowhere else to go." You set your stance upon a hill's peak, casting your gaze upon the large forest before you. Although trees blocked some of your surroundings, you could spot the faint trails of the grasslands, a coniferous forest, and a prairie in all your directions.
Fallow replies humbly, "Well, first off, we need a new name-"
"Oh, yes-yes!" you reply, "I'm sure as the streams that bend that our formers wouldn't like us claiming rights in their pack... Any ideas?"
The male merely states: "Nightfall."
"Nightfall? Why that? Isn't that the time of day?"
"Precisely," he cooed, "We've fallen to our lowest in the dark of the night, hence night and fall... being combined."
"Oooh, it's got a nice ring to it," you chime, "The Nightfall... or erm, NightfallERS."
"Perfect for our leader's new pack name. That white mark of yours is glowing with a sense of hierarchy and wisdom, as if it was made to be yours."
You freeze for a split second, casting your yellow hues to the caramel male. Growing wary of his response, you reply, "Leader? Me? Oh nonono, you're sorely mistaken. You were a beta with the best huntsman's abilities in our formers, you know how to run things. I was only new blood and of no use unless told. And this white mark? Nonono, it shows nothing. It's just a stupid, plain ol' mark. It's had no use since birth and I don't plan on using it now-"
Fallow calmly followed in retort, a simple snort arriving near the end, "And this is what's going to make you a good leader. I've already had my chance to prove worthy to my highers. I love what I do, and will gladly stick to it. You, on the other paw, have so much untapped potential that you're almost bursting at the seams! You deserve this, really. No wolf under my watch is going to get treated like the poop we roll in."
You let a mere smile follow, ruffling your pelt. Raising your head, you make the first pack call of the Nightfallers, Fallow joining in in tune. Your white mark gleams in the moonlight, a flash occurring in the quiet night. A wolf among the stars stares down at you, but you don't notice. They as well call but cannot be heard.
You are Silhouette of the Nightfallers, and this is your time to rise instead of fall.
~~~~~~~~~~~~~~~~~~~~~~~~~~~
The time had come for a new leader to arise, as Silhouette lay still in her deathbed. Her eldest pups, her first litter, wouldn't carry on the task for they were old themselves. Gryphon, the pack's breeding male, took position to replace the elder as there was no other next-of-kin who would dare take on the task.
This is Gryphon's story...
~~~~~~~~~~~~~~~~~~~~~~~~~~~
Gryphon had lived a long life and now rests in the stars with the Kimera. His heir is the wolf with stars in her own fur.
This is Lumina Lunii's story...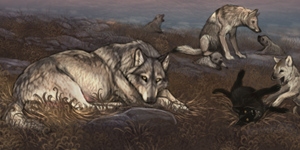 Nesting / Pupsitting