Main Content
Lunar Event #2! (March 19th-25th, 2021)
Lunar Event #2! (March 19th-25th, 2021)
Posted 2021-03-18 19:10:16 (

edited

)
The Lunar Event Begins! March 19th, 00:00am WDT through March 25th, 11:59pm WDT
If you're new or you need a refresher on how the Lunar Event works, we recommend reading the Lunar Event announcement news post located here:
LINK!

Now, we'll move to the part about the event updates! :D
New Shop Rewards!

Just as promised, Selene Markings are joining the Selene set this week. The applicator (1 use) costs 250 LT and there are 4 markings within. You can pick the slot, marking, and opacity when using the applicator on your chosen wolf.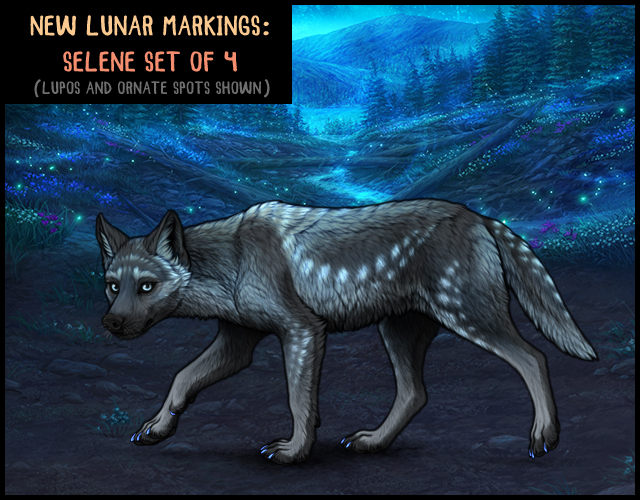 Selene Markings come in the following shapes:
 - Dilution
 - Inverted Agouti
 - Lupos (new!)
 - Ornate Spots (new!)
The Selene base and Selenite claw, nose, and skin set are available as usual this week.
This event's unique Lunar eye applicator is Indigo! Indigo eyes can pass Indigo and will fail to Blue and Red.

Notice: All applicators that are available this week will be retiring this month, and will appear all at once during the next big real life Lunar event of our choice.  We will put out an announcement in advance when a real life Lunar event is approaching!
New Encounters!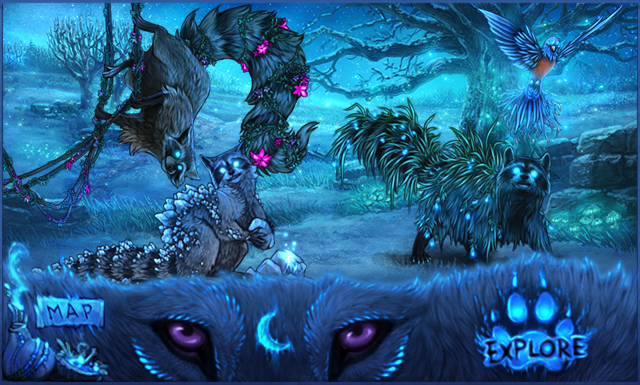 We have added a bunch of new encounters and one new opponent!
There are a set of 12 unique raccoons, one for each biome! All raccoons on Wolvden are quite interested in trading, so be prepared for some interesting exchanges. They can offer new adorable toys!
There are also a few birds, a catbird, and a new rare encounter involving someone you may recognise. :o These other encounters are universal across all biomes.
The new enemy is a Giant Rat! It is also universal across all biomes.
Enemy Trophies!

Speaking of enemies, all Lunar opponents can now drop trophies! Some of them are pretty typical: a skull, an antler, and so on; however, these creatures have some unique traits that may not vanish when their lunar spark is gone. Some trophies are edible, others are toys or nesting items, and some are just objects for you to sell right now. Here are the Lunar-unique trophies you can find!









We've also shuffled around some scars, so you can attack an eagle and get a different scar than in the normal world!
In future, we'll be updating and adding new trophies throughout the year as we add new enemies in both worlds. We'll announce whenever we add or switch items to existing creatures!
Posted 2021-03-18 19:10:49

Yay! Can't wait!


🍀AbbyCat🍀
#4385


Posted 2021-03-18 19:11:27

Ooo, so pretty!


Pack Daddy
#28381


Posted 2021-03-18 19:11:38

Super excited!


Peryton 🦌🦅
#19292


Posted 2021-03-18 19:12:16

Hell yeah! :D


Cozy
#31771


Posted 2021-03-18 19:12:25

Oh so cool!! I love the new markings!

Luminuus
#26536