Main Content
Night Paws

I buy pups off the TC to chase or resell. If you don't want this, send me a PM and I'll give your pup back. If your pup ends up in a cave other than "Trade" or "Unsorted", I plan to keep it.
All wolves I have for sale are clean.
I am working diligently to keep Faelor out of my pack, which means most of the pups I've bred will be Faelorless - with the exception of any of Errin's offspring.

TIIIs bred: Fox (2), Pyrope (2), Realgar
Melanistic wolves bred: 1
Mela carriers bred: 6
Albino wolves bred: 0

Pack Leader Sekir
For Stud
Aethriel
| | |
| --- | --- |
| Played By | Shadow (#9999) |
| Territory Biome | Rainforest |
| Cave Slots | 5 / 5 |
| Pack Adults | 37 / 38 |
| Pack Pups | 27 / 190 |
| Immortal Wolves | 0 / 0 |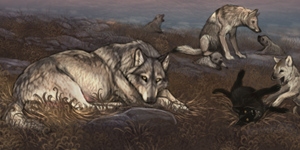 Nesting / Pupsitting