Main Content
Star Trek Pack
I AM likely NOT ROLLING on Friday March 31
But I should be back for April 1st
(Uh oh you know what day that is!)


Tuvok is OPEN for Studding!
PM if he's out of slots and I will refresh them for you!
Ask if you see a wolf with a $ sign if you want to buy them and I'll price them for you!
The pups with ** are free if you catch me before I toss them to the enclave!!!
I Just don't seem to have the time to list them all!
A lot of them will end up chased unless they are Pies!
GEN 1 TORN PIE STUD:
3 GC or 7500 SC
Tuvok NBW Badger 873st with Piebald: TORN
With 10 Marks including: White Inverted Panda, Black Ghast, White Sallander, White Wings and Black and White Merle!
Tuvok is a fictional character in the Star Trek media franchise. One of the main characters on the television series Star Trek: Voyager, Tuvok is a member of the fictional Vulcan species who serves as the ship's second officer, Chief of Security, and Chief Tactical Officer.
Tuvok is a Vulcan Starfleet officer who serves aboard Voyager while it is stranded in the Delta Quadrant. In 2371
Tuvok and Neelix became quite close in two separate Voyager episodes
One involved a transporter accident and the other was an injury where Neelix became Tuvok's mentor as he recovered from a traumatic brain injury..
Introducing Neelix a Brand New GEN 1 Badger Stud with 2 Panda Marks, Black Wings Scarce, and 2XMerle, Artemis Sallander, Auburn Shaded other Special Marks And SMOKE Eyes with 885 Stats and gaining more daily!!
Neelix is a character in the science fiction television series Star Trek: Voyager, played by actor Ethan Phillips since the series' inception. Neelix is an alien native to the distant far side of the galaxy, who has joined the crew of the United Federation of Planets starship USS Voyager as cook after its being captured by a mysterious shock wave to the Delta Quadrant.
Neelix was introduced in "Caretaker", the two-part pilot episode of the series, where he was rescued along with his Ocampan lover Kes by the Voyager crew. Previously a space trader, Neelix states his familiarity with the Delta Quadrant and appoints himself the ship's cook. He later earns the titles of Morale Officer and Chief Ambassador. When Naomi Wildman becomes the first baby born aboard Voyager, her mother Samantha names Neelix as her daughter's godfather.
Come and meet Alexander He is a GEN 1 with Badger Base: 7XMerle, White Wings, Turquoise Urajiro and Artemis Sallander!
He is also on the no heritage LEADER-BOARD for stats at 1107st and gaining stats daily!!
He is only studding for a limited time possibly for as short as 42 days! (30 rollovers LEFT as of 12th Sep, 2022)
Recently RETIRED
NBW Next GENERATION Will Riker with SMOKE Eyes, BADGER BASE!! 10 Marks: 3XMerle, Black Wings Scarce, 4 event Marks Slot 9 Ducat Inverted Panda 958st Heritage-less STUD
William Thomas "Will" Riker is a fictional character in the Star Trek universe appearing primarily as a main character in Star Trek: The Next Generation. Throughout the series and its accompanying films, he is the Enterprise's first officer, and briefly captain, until he accepts command of the USS Titan at the end of Star Trek: Nemesis. Riker is played by actor Jonathan Frakes.
My LAST LEAD and STUD
Meet Worf A NEW Heritage-less MULTI MERLE STUD! AIRGLOW Base 6 XMerle Ornate Waves 927sts 5 GC (He WAS a 5X Merle but I RMA'd a 6th Merle!!)
Feb 13 2022
Worf is a fictional character in the Star Trek franchise. He appears in the television series Star Trek: The Next Generation (TNG) and seasons four through seven of Star Trek: Deep Space Nine (DS9)
"I am Worf, son of Mogh."
I am ready for Stovokor!
"Klingons do not surrender." Slowly gaining stats in Battle
Thursday Feb 10 2022 is ODO'S LAST DAY AS STUD!!
Odo A Heritage-less MULTI MERLE STUD!
NBW Losna 5XMerle and Luna Inverted Cross + Selene Lupos , two special RMA marks, Bioluminescent Teal Eyes and Selenite Nose, Selenite Claws and Noctiluca Paws with 762 Stats For 2 GC or 600 SC
My FORMER Lead and my Stud: George is short for: Philippa Georgiou HAD 2807+ pups bred
Philippa Georgiou (portrayed by Michelle Yeoh) is the captain of the USS Shenzhou (NCC-1227).Georgiou has a "mother and daughter" relationship with Burnham after the latter joins the Shenzhou.
During the U.S.S. Discovery's time in the mirror universe, it was revealed that Georgiou was the Emperor of the Terran Empire and adoptive mother of Michael Burnham. Following a coup attempt, she was transported by Burnham to the U.S.S. Discovery and later the prime universe.
RETIRED STUD Dec 29 2021
Geralt LOSNA Based Stud with SMOKE EYES, Black Merle in Slot 2, Gray Smoke in slot 3, Silver Patchy Unders, 3 Event marks, 2 RMA only Marks, and Black Wings in Slot 10!
FORMER STUD GEN 1 Moonlight Base with 5XMerle, 2 Event Marks 10 Marks!
Former Stud's Name is MIKE:
Michael Burnham is the fictional protagonist on Star Trek: Discovery portrayed by American actress Sonequa Martin-Green.She originally appears as the First Officer of USS Shenzhou under Philippa Georgiou (Michelle Yeoh) until she commits mutiny...She serves as the series lead.
Series creator Bryan Fuller deliberately gave Martin-Green's character a traditionally male name, which he had done with the female leads in three of his previous series. Martin-Green decided that the character was named after her father.
FORMER STUD was CARL (GEN 1) Losna with 10 Marks: 5XMerle, + 2 Losna Marks +1 Special RMA Mark, Lumino Eyes...
Carl was a mysterious being who appeared out of nowhere when Commander Michael Burnham (Sonequa Martin-Green) brought Emperor Philippa Georgiou (Michael Yeoh) to Dannus Five in search of a cure for her terminal condition that was literally tearing her apart molecule-by-molecule. Carl, who appeared to be a human wearing a suit and bowler hat, suddenly materialized in the middle of the barren, snow-filled planet sitting in an Adirondack chair and reading a newspaper next to a doorway
"I AM THE GUARDIAN OF FOREVER."

-----------------------------------------------------------------

My Avatar was drawn by PeachesAndPies Thank you!
___________________________________________________________
I love all things Star Trek!

I also love Dragons!


RO on Wolvden is NOW at 2:00 A.M. My Time NOW
I am a Night Owl so I game all night and sleep all day!
LBGTQ Supportive
Local Trans-Parent Support Group Member
Mother/Retired
I live on a small farm with a lot of real Pets:
4 Dogs, 12 Cats, 42 chickens, 14 ducks, and 1 Shire Horse!
Canadian (Manitoba)
I love this game!
--------------

Deciduous Forest: Speed........Grasslands: Speed
Mountains: Speed....................Coniferous Forest: Smarts
Prairie: Speed..........................Riparian Woodland: Wisdom
Desert: Strength......................Taiga: Agility
Swamp: Agility..........................Tundra: Smarts
Glacier: Wisdom.......................Rainforest: Strength

Stalkers require high Smarts and Wisdom.
Chasers require high Agility and Speed.
Finishers require high Strength


172 ROs is the last day females will be in heat! Lead males last day is 191, all others have a chance to die after 179
.
I am Donna and my King is Interstellar Scattered Star-Lord #94818 on Lioden






Sales Chat Ad:
GEN 1 Badger Stud Tuvok 880st with Piebald: TORN
WIP, Black Ghast, Wht Sallander, Wht Wings and 3XMerle! For 3 GC


My Emoji collection for easy reference!
🐼🦡🕊️👀🎉✨⭐️🧡💙🤍💚💜🤎🖤🥛👑🐺🌷🦝🔥🔹⚪⚫🐟💪🦊💎🐊🔨🧭🌟🐖🐇💦🔸✨⚠️🌈🌿🐻🦢🍓🌞🎵 🐰🐣🌻🐃🐄🐢💰🐻🐈🌎🦇🐁📜🌼🧿🏆💟🐶🍀🥩⚡🗻☁☯️❄🔮🦗🐹🐭🦋💀🕷️♥🏳️‍🌈🌵⚕️🦌 🐕💖🍌🥩🍼 💕🧯📯👻🎃🌙🥜🌵🐦 🦢 🦚 🐔📝🕯️🦌🐱🐁🧸🐈🎉🎠🦅🍄🐸🦔🐉🍄🎁🐤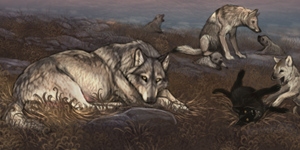 Nesting / Pupsitting