Main Content
The Highlands Pack
CASCADE HIGHLANDS PACKS
Overview
This pack resides deep within the forests of the north Cascades, straddling the border between the USA and Canada. They're a large, multi-family pack that plays an active predation role.
Traditions
Inbreeding is strictly forbidden within the pack. As such, females are permitted and even encouraged to seek "fresh blood" from passing males, and some wandering strangers are even invited into the pack. This was set in place by the pack's founder, Leth, who'd heard tales of the devastation inbreeding can cause and forbade it.
Once a month, the pack's leader is sent into the moon god's realm to barter for safety and bounty for the pack. This procedure lasts about a week, during which the lead will return and leave many times.
Structure
Structure is more a display of responsibilities rather than prowess.
The Leader, a female, resides at the top. She says when scouts and hunters go, and who stays in the pack and who leaves. She gets the final say on most things.
The Herbalist is second. It can be male or female. It heals the ill and helps guide the lead in her bartering with the moon god.
Beneath these two are all other adults. They hunt, scout, or pupsit. Many wolves want to scout, but few want to pupsit. The heir resides in this tier until called upon by the lead.
Within this mix is also the Pack Father, a male with little to no blood ties to the rest of the pack who has been elected, and has accepted, to produce clean offspring.
Then there are the pups and juveniles
Religion
Moon god
Seasons god
Sondris, the death god
Pellia, the fertility goddess
Hunt god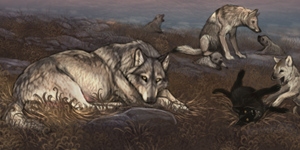 Nesting / Pupsitting