Main Content
Weirdmageddon
Name:
Mr. Tibbles
T3s found:
Wulfenite
~Pack Rules and Traditions~
- When new puppies are born, the lead wolf must make it their top priority to visit the puppies and determine where their paths will lead in life.
- Mothers and fathers decide the names of their puppies, but the lead wolf must then approve these names.
- Each role excepting Herbalist and Hunter must have a Head and a Secondary. The Secondaries look after adolescent training, and the Heads make sure that everyone in their role are working as they are supposed to, and that the role is running smoothly.
- Hunters do not have Heads or Secondaries, but each Hunting Party has a Party Leader, and they run their Hunting Party. Party Leaders can have any role in their party. Typically, only wolves of high significance are Party Leaders.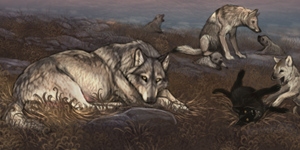 Nesting / Pupsitting