Main Content
Pack of mice
All the wolves that are in the sell den are for trade/sell
ONLY the ones named Sell $.
And I'm a albino breeder I breed them I don't inbreed I sell the ones that are related to the ones in the pack! I sell them for around 400 or 200, females are 500, males are 200 or 300, maybe even 100 cuz I'm nice 👍
I adopt pups and try to grow pairs, I try to pick the right partner for each pair bond, hoping I get some lovely and beautiful puppies~
Then sell them to hopefully good homes.. (sigh) some don't make it to great homes and packs but some make it.
Anyways back to the pups I sell my pups for cheap sometimes around 15 but I wanna make it a bit higher so I may sell some pups for 45 ᴏʀ 50 ᴀɴᴅ 20 seems a bit cheap I try not to over price.
Anyways any random friend request I may accept,some I won't cuz not every one that friend me talks to me.. Which kinda hurt my feelings (sob). But I understand Their busy and stuff but jeez man can you at least say hi!? (Also I am on here daily, when ever I get a chance I get on here
By skudde
(Also because female albino are kinda hard to get i may keep some!!
Alpha
ᎻᎪᏃᎬᏞ
For Stud
ᎷᎪᎡK
| | |
| --- | --- |
| Played By | Mouse (#50858) |
| Territory Biome | Mountains |
| Cave Slots | 5 / 10 |
| Pack Adults | 40 / 43 |
| Pack Pups | 12 / 215 |
| Immortal Wolves | 0 / 0 |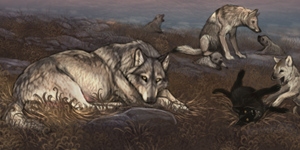 Nesting / Pupsitting