Main Content
deviltown
welcome to devil town
breeding
hi i breed tiii wolves! mainly pearls, but occasionally i get some others!! you can find some of the pups i've bred that i'm selling in my sell den.
stud info
salem, my current alpha, is for stud! i keep my prices very cheap so you can stud him for 1 GC or 250 SC. more information about rules and stuff is on his stud page! 
pack info
i'm not a roleplayer or anything, so i don't have much pack lore. i'm big on music so all of my wolves' names are song/musician based.
goals
a lot of these have been met so i just further the goals.
own 1 of every tier iii base: (5/?)
breed 20 pearls (17/20)
own a lethal
stud 700 pups (601/700)
sales
here are the price ranges you can find my wolves at!
tier III (+0.05)= 10-15 GC
tier III (-0.05)= 10-45 GC (depends on gen)
tier II= 2-10 SC
tier II= 2-5 SC
Alpha
salem
| | |
| --- | --- |
| Played By | saintsalem (#35258) |
| Territory Biome | Glacier |
| Cave Slots | 4 / 10 |
| Pack Adults | 20 / 26 |
| Pack Pups | 14 / 130 |
| Immortal Wolves | 0 / 1 |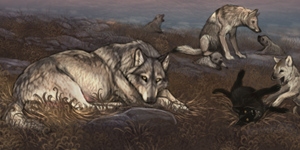 Nesting / Pupsitting