Main Content
Astoriads
Goals
collect all lunar event bases (2/2)
collect all lunar event eyes (3/3)

purchase pup stages (0/50)

expand territory slots to 60 (40/60)
expand immortal slots to 3 (2/3)

breed a melanistic wolf (1/1)

breed a zircon wolf (0/1)
breed a mojave wolf (1/1)

breed a polymelia wolf (0/1)

no wolf under 400 stats (12/32)

collect all skulls (5/32)
collect all scars (4/40)
collect all lunar trophies (3/9)
no tier is in pack? no tier iis in pack?

REMEMBER TO NEST YOUR WOLVES SPENCER

Occasionally, I buy pups to chase when they're adults so that other users might find them in explore. If you're not comfortable with me R&Cing a wolf I bought from you, PM me and I'll return them. PM me if you're interested in any of the wolves in my R&C den, I'll gift them to you!

Potential Wolf Names: Hex, Solitaire, Cyan, Pepper, Rose, Blush, Bear, Judas, Faolan, Spider, Chirp, Drift, Finch, Jericho, Cain, Astra, Marble, Ghost, Grian, Mumble, Heron, Cherry, Coke, Flower, Tulip, Ant, Milk, Dream, Roe
Potential Emojis: 🍧, 🦇, 🕷️, 🦋,🧨,🧶,🧦,💎,⌛,🐾,🍒,🌈
Lead Wolf
Vivian 🌠
For Stud
Jericho 💎
| | |
| --- | --- |
| Played By | Spencer 🌓🐺 (#29249) |
| Territory Biome | Grasslands |
| Cave Slots | 6 / 10 |
| Pack Adults | 36 / 42 |
| Pack Pups | 44 / 210 |
| Immortal Wolves | 2 / 2 |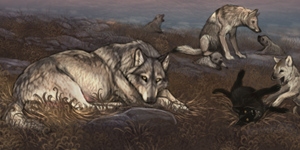 Nesting / Pupsitting