Main Content
Fαɾ-ɾҽαƈԋιɳɠ Mσɱҽɳƚσυʂ
12 wolves in this pack may leave due to neglect!
Global Population: 163
Actually Keeping: 123/120
note: get rid of more wolvfers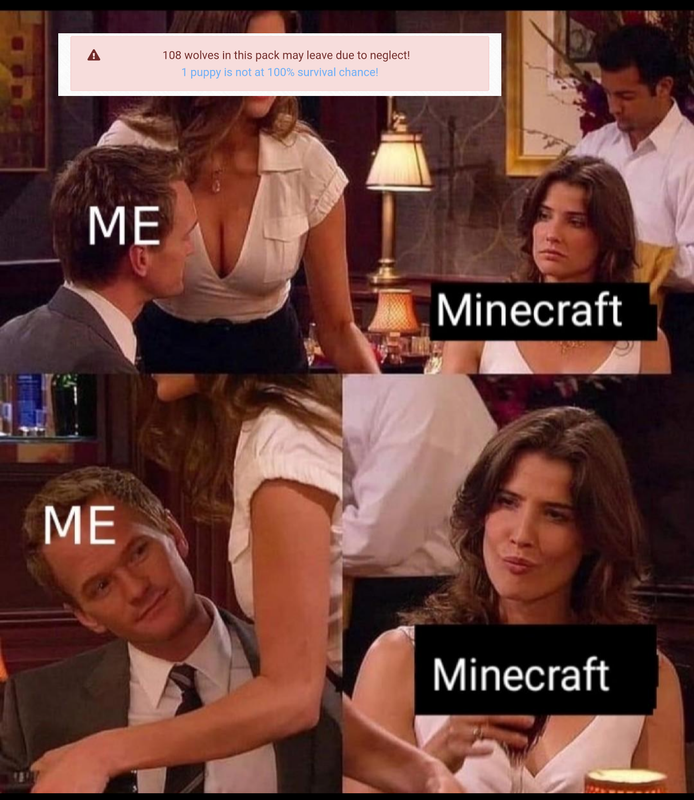 The Great Leaders
The different leaders in the Great Pack, just under the King and Queen's power. They lead their packs separately and all follow a set of rules titled The Code of Honor.
When a pack's leader takes an direction that violates The Code of Honor, it is the King's and Queen's duty to bring order and peace to The Far-reaching Momentous.
The King and/or Queen also resides here.
The High Council
The wolvfers selected by the King and/or Queen, or suggested to by the lesser leaders, to help lead the Great Pack of The Far-reaching Momentous and making important decisions, for the King and/or Queen to approve or deny. Only the most trusted are assigned this important position, and are addressed by their position and name.
Only few wolvfers are trusted with such a great job.
The Great Guard (Sentinels)
Protectors and strong warriors of The Far-reaching Momentous. Only the strongest wolvfers are assigned the great job, and keep it. Also referred to as the sentinels.
Only those that meet 400 or higher base stats OR has a minimum of 600 stats may be assigned as a sentinel, the younger generations trained by the Great Guard.
The Ferocious Red Cavern
Values: Legacy and Courage
The main densite of Fierce Grace, the current biggest occupant of The Far-reaching Momentous, and dominant group. Full of strong and skillful fighters, fierce at heart and hard-headed, they are well-respected.
The pack is considered the founding parent of the mountainous landscape they live among, holding the largest capacity of territory space of all the packs.
Their only goal is to remain strong and large, producing many to continue their powerful lineage.
Tyka, September, Jukai, Division, Kai, Acorn, Grizzly, Birchwood, Tarrow, and later Redwood, Firehide, Redmask, and Yellowjacket are considered the Founders of Fierce Grace. Burning Bush, Kremlin, Kassineal, and Tree are respected as a higher-up, but not known as Founders. Ivy is very lately added to the Founder list, as she had gone unnoticed long after she had already passed.
The Wayward Virtue Bellators
Values: Morals and Loyalty
A group of both able and scrawny wolvfers, strong in their idealist views and favoring morals and empathy over strength, they value their independence and strive to rescue pups with great potential and give them a home in their ranks.
Founded by Moth and her most loyal companions, they set to fight against cruelty and wrong-doings, by the strength of their words, and tooth and claw if all else fails in order to set wrong to right.
They had originally been apart of Fierce Grace, but as the tensions rose between them and those left of the 64, they were eventually chased out after many chances have been given.
The 64 were a large group of adols and pups saved by Moth from the horrible Puppy Landfills, however tragically, many had not made the journey, and many succumbed to their sickness. The ones that survived joined Moth's group, taking the power of the blue sword into their names (and later any else wolvfer that survives the Puppy Landfills held the sword also), and calling themselves the Virtue Bellators. When they left (were forced out of) Fierce Grace, they renamed themselves to The Wayward Virtue Bellators.
The Red Bouquet
Values: Bravery and Triumph
A group founded by King Whiteflower and Queen Cerise, after having their previous lives wiped from their bodies, with the goal of creating a stronger, more powerful lineage than that of Fierce Grace had achieved.
They are more strict with who gets to stay in the pack, even with their own pups, which makes the pack remain relatively small. They only take in new blood if they meet a certain quality or more, in order of most important to least; how long is the wolvfer's known lineage? Only 3 or less may be accepted. Stats? Nothing less than expected for the wolvfer's gen, which goes for all residents of The Vermilion, including those born in the pack. Appearance? Preferably beautiful and fine, but high stats are preferred over beauty. Special qualities? (Marks, base, etc...) If accepted, must work on stats if necessary.
The Heart
Nursing mothers, pups, and pupsitters all live in the heart of each pack densite. Pupsitters help protect and guard The Heart, and all wolvfers without a role must become a pupsitter if not able for any other job.
The Younglings
Adolescents of the packs of The Far-reaching Momentous, they train to be the very best wolvfer they can be, assigned rotating mentors to aid them in scouting, hunting, herbalism, pupsitting, or even becoming a sentinel if their future lays on that path.
The Wild Lands
Any wolvfer without a pack or not recognised as apart of the Great Land, lives beyond the territory of The Far-reaching Momentous. They walk alone, in their own packs, or in small groups. *Nicer wolvfers are sold here
The Deep Pits
Just fodder
Feel free to PM me about a wolf! I don't mind negotiating, as long as we are being respectful to one another. As for the fodder... If uninfected, they are 10 SC to past owners, 15 to other. If infected, free to past owners, 5 SC to others. Prices for fodder are firm, but you may offer items instead of currency.
Curious of what all the emojis mean? Well, I'll tell you.
Membership
🏹 - Fierce Grace Member
🏴 - The Wayward Virtue Bellators Member
¬ - The Red Bouquet Member
🐾 - Has been apart of main three packs, but left to the Wild Lands, or joined another pack. (Or is being sold)
Heritage
🌹 and 🥀 - Tyka's line (💐 identified his mate, September)
🍁 - Jones' descents. Jones is leader of the Mighty Oak pack, and in respect to the player's mark (similar to mine), I carry the maple leaf onward.
🔆 and 🔅 - Reddii's line (☀ identified his mate, Red, and their first litter together of four pups)
🔹, 🔸, 🎩 and 👒 - Whiteflower's line (🍷 identified his mate, Cerise. 🔸 identifies Whiteflower's and Cerise descents, 🎩 and 👒 identify other descents. Males typically get the black and blue hat, females the other, but not always)
The first emoji always identifies the lineage starter, who is always G1, breeding male and/or leader. Leaders with a heritage marker already pass that marker without making a new one, likewise with BMs.
Personality
❤ - Romantic
🖤 - Stoic
🔥 - Aggressive
🦋 - Friendly
Special
🗡 - Survivor of the Puppy Landfills (might give further meaning in future...) *Began with those rescued in the original 64
Alpha
🌹🏹 Aɾιʂɯιɳɠ
Friend
🎀 Cαɾιƈαƚυɾҽ
| | |
| --- | --- |
| Played By | 🏴〰Nҽʅƚԋყҽɳ〰🏴 (#2537) |
| Territory Biome | Coniferous Forest |
| Cave Slots | 10 / 10 |
| Pack Adults | 109 / 120 |
| Pack Pups | 53 / 600 |
| Immortal Wolves | 1 / 1 |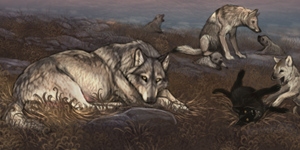 Nesting / Pupsitting