Main Content
ღ Echo Pack ღ
Key: | ☯︎ - Stoic | ♡ - Romantic | ★ - Friendly | ✸ - Aggressive |

[Gen] [Bloodline] [Mate] [Fertility] [Tier]
Bloodlines -
[A] Alpha | [B] Beta | [D] Delta | [E] Echo

★ Pack Lore ★


Echo Pack, originally started out as a small pack in the Deciduous Forest.
Its founders, Lyra and Trout had cleared out a small piece of territory to make into their home,
shortly before their arrival of their first and only litter of pups, two she-wolfs named Minnow and Trout.
Over the first few months, Echopack had made an agreement with a neighboring pack and took in the alpha's own
daughter, a little she-wolf named Finch, who was just a month younger than lyra's two daughters.

Eventually during one of her patrols, Lyra stumbled apon a small male wolf pup named shade, who was raised in
Echopack as if he was one of their own.

Many seasons passed and the pack slowly grew, and eventually it was large enough where Lyra decided to take on a wolf as her Beta.
Bluemoon, was given this position and his mate Slate was made into the Beta Female.

Generations passed, and eventually Lyra had watch her mate, Trout, die of old age as well as many pack mates before she finally joined them,
leaving Bluemoon to take the Alpha position, as Lyras Heir was not yet old enough to take the possition himself.

Bluemoon was the pack leader for a short amount of time, as it gave Elrik time to grow to take his positon when Bluemoon had finally joined the others in the sky above

Now in current day; Elrik, the grandson of Lyra is the third Alpha of Echopack, with Storm being his mate. Storm is the daughter of Bluemoon and his mate Slate.
Elrik has two Beta Males in his pack, since the pack had gotten so large to manage; and the three males get along well
Apollo is the first beta male, with his mate Athena; Older than Elrik aswell as Apollo being his grandfather.
While Achilles is the second beta male, a much younger wolf who has not yet decided on a mate.


✧ Bloodlines ✧
Alpha Bloodline (A) -- Lyra's Bloodline
Mate: Trout
Beta Bloodline (B) Bluemoon's Bloodline
Mate: Slate
Delta Bloodline (D) -- Apollo's Bloodline
Mate: Athena
Echo Bloodline (E) -- Achilles's Bloodline
Mate: TBD

** MIGHT CHANGE SYMBOLS**
Any Wolves with an X or a ✧ are up for grabs! Lemme know if you want them!!
TO DO:
★ Sell G5 Mojave Male (10 GC) G6 Mojave Male (10 GC), G3 Mojave Boy (20 GC) **ACCEPTING MOST OFFERS**
★ Retire Bluegill when possible (For free)
★ Sell any unwanted Mojave/Fox Pups (GC)

★ Start New Warm Dark (Red) Bloodline
★ Start New Pair Bond Bloodlines






Alpha
☯︎ Elrik ☯︎
Mate
♡ Storm ♡
| | |
| --- | --- |
| Played By | EndlessSketch (#20293) |
| Territory Biome | Mountains |
| Cave Slots | 10 / 10 |
| Pack Adults | 65 / 80 |
| Pack Pups | 45 / 400 |
| Immortal Wolves | 1 / 2 |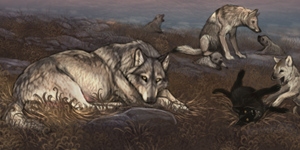 Nesting / Pupsitting