Main Content
Wayward Grotto
2 wolves in this pack may leave due to neglect!
You've stumbled across a grotto full of wolves of all kinds mingling; from elders resting in shaded alcoves telling their stories, to rambunctious pups playing under the warm sun. Scents of many different biomes linger, brought in by wolves from various regions. 
It doesn't take long before a dappled wolf takes notice of your presence and approaches. Typically one would expect hostility for entering a territory unannounced, yet instead the soft colored wolf seemed rather elated.
"Are you new here? Welcome to Wayward Grotto! I'm Oilibhéar."
She pauses briefly to allow you to introduce yourself before continuing,
"All are welcome to rest their weary paws here. Should you decide to extend your stay, a den can be arranged. Feel free to have a look around!"
Lead Oilibhéar
For Stud
Tepetiz
| | |
| --- | --- |
| Played By | Loon (#16890) |
| Territory Biome | Desert |
| Cave Slots | 9 / 10 |
| Pack Adults | 51 / 70 |
| Pack Pups | 57 / 350 |
| Immortal Wolves | 2 / 2 |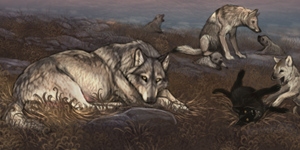 Nesting / Pupsitting