Main Content
Forsaken Beauties Pack
(I've got so many merle marked wolves, I'm starting to get sick of seeing it. so in the future there may be a merle purge)

Pack restarted: 7/17/2022

100% Inbred Free (Every page)
100% Lunar Blight Free

Lunar Blight refers to Lunar bases, markings, claws, skin, noses and unusual glowing eyes

This is a pack of misfit wolves who have all escaped their home packs that were spreading Lunar Blight. They have come from all over the wolf lands, and work together to keep their pack free of the blight. When possible they save other wolves from the Lunar Blight.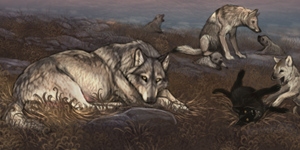 Nesting / Pupsitting