Main Content
Wolves of Eherael
ABOUT GUARDIANS

Guardians is a long time running project of mine, also titled Tales of Eherael, in which a planet is populated by larger than average wolves who have separated into three drastically different packs. Within this world is a mythical stone called The Stone of Iloair; The stone was sent to the planet by the gods to keep the wolves safe during their lives, as it has the ability to heal mild to moderate injuries. However, this item comes with a price. Since it was sent down half divided, the Rainers (wolves who can speak to the gods) were warned to never allow the Stone to be fully composed, or it would bring about the end of their known world.
While the stone doesn't have the ability to destroy the planet, it's full creation would give off a very strong magnetic pull causing extreme climate change and severe weather, famine and chaos would ensue. Now, a wolf has broken away from The Kingdom of Accadia creating a menacing group of wolves known as Khaus Legion, named after their creator. Since becoming an established group with morals and traditions, Khaus led a siege on Valoria to slay the King and take the Stone fragment from the Catacombs. With his siege successful, Imaante is now Queen of Accadia, and is eagerly looking towards Candelstien for assistance again this newfound threat that takes the shape of an old friend. 
Guardians is a fantasy wolf rpg currently established on Discord, we offer 5 character slots upon joining, three different packs to choose from, 21 roleplay locations, 24 total members, and we've been open for almost a year now! We are currently looking for staff, so if that is something that may interest you, please shoot me a message!

ABOUT MY DEN/ACCOUNT
Currently, I don't have any males up for Stud, but I would like to offer one of them up at some point once I learn more about the game. Right now I'm mainly trying to learn all the different markings and colors, what they look like, how the tiers work, and the overall genetics in the game.
I believe my highest leveled wolf is currently my lead, Imaante, at level three.
TRADES

I currently don't have any trades open, but once I do I will put them here!



Queen Imaante
King
None set.
| | |
| --- | --- |
| Played By | Alchemist (#13311) |
| Territory Biome | Mountains |
| Cave Slots | 1 / 5 |
| Pack Adults | 1 / 5 |
| Pack Pups | 0 / 25 |
| Immortal Wolves | 0 / 0 |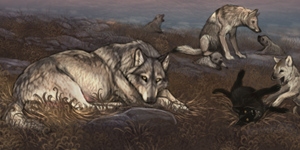 Nesting / Pupsitting