Main Content
SANCTUARY
85 wolves in this pack may leave due to neglect!




🏰 DUR-ŠHARRUKIN | The Throne Room 
Den of the Advisor, wolves mated to the Pack Leader, and their offspring.

🔰 DABESTĀN | The Nursery
Den of the weaned Pups and Adolescents.

🏹 HAZARABAM | The Barracks 
Den of the Hunters.
   ⚡️ Strikers Hunting Party   |  💥 Tempered Hunting Party
🛡 Honored Hunting Party   |  🏴‍☠️  Rouge Hunting Party 
🏵️ MALTRAVIESO | The Lodge
Den of passers-through and wolves available for Adoption.  
🛎️ THE ALLEGORY | The Guild
Den of the Scouts, Herbalists, and Pupsitters.
PACK GOALS : Breed specialized lines founded by NBWs / Chased wolves.
⭕️  High Stat line
⭕️  T3 line
⭕️  Special line
⭕️  Melanism Carrier line
⭕️  Albinism Carrier line
⭕️  Hetero Eyed lines 
⭕️  Doubloon Merle line 
Pack Leader KYUUBI ☀️
Featured Wolf
INARI
| | |
| --- | --- |
| Played By | 𝗘𝗗𝗘𝗡 ☀️ (#1257) |
| Territory Biome | Deciduous Forest |
| Cave Slots | 5 / 5 |
| Pack Adults | 139 / 139 |
| Pack Pups | 8 / 695 |
| Immortal Wolves | 0 / 0 |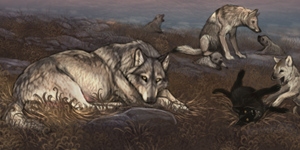 Nesting / Pupsitting