Main Content
Lunar Event #3! (April 16th-22nd, 2021)
Lunar Event #3! (April 16th-22nd, 2021)
Posted 2021-04-15 22:06:38 (

edited

)
The Lunar Event Begins! April 16th, 00:00am WDT through April 22nd, 11:59pm WDT
If you're new or you need a refresher on how the Lunar Event works, we recommend reading the Lunar Event announcement news post located here:
LINK!

Now, we'll move to the part about the event updates! :D


New Shop Rewards and Wipes!

Just as we mentioned previously, the Selene set is now gone from the Lunar Shoppe. It will return during one of the upcoming real life Lunar events that we will announce in advance. For now, let's check out the new set: Luna!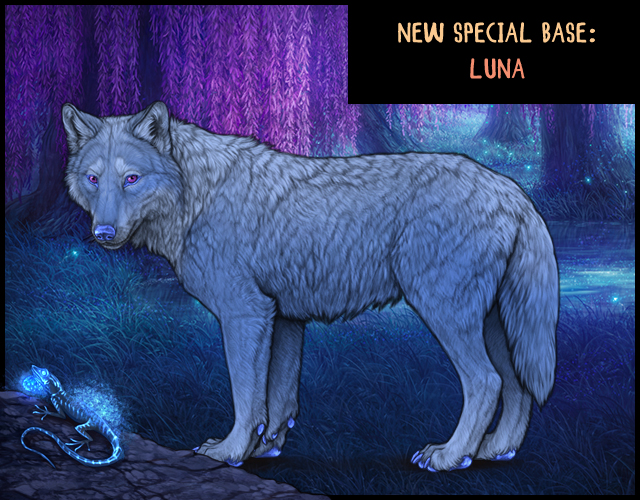 This event's new base is Luna! It is a Medium Special-tier base. The applicator costs 500 LT.
The base comes with a matching set of Claws, Nose, and Skin: Lunar.



This event's unique Lunar eye applicator is Purple! Purple eyes can pass Purple and will fail to Blue and Red.

Notice: The base, claws, nose, and skin applicators that are available this week will be retiring after next month's Lunar event. They will appear all at once during the next real life Lunar event of our choice. The eye applicator retires this month, but it can also be found again in the Lunar Shoppe when a real life Lunar event occurs. We will put out an announcement in advance when a real life Lunar event is approaching!




New Lunar Shoppe Offers!

This month, we are adding some universal things to purchase, and a few biome-specific offers are being updated. We'll be rotating the biomes every event!
Universal Offers:

Fluorescent Cave

Bulbous Lunar Flower

Hollow Essence Tree
Glacier Offers:

Sleeping Giant

Lunar Lemmings
Riparian Woodland Offers:
Shining Waterfall

Lunar Newt
Swamp Offers:

Serene Swamp

Lunar Anole
Deciduous Forest Offers:

Fungus Forest

Lunar Deer Mouse


Posted 2021-04-15 22:07:08

Super excited!!!!


caffeinated
#2327


Posted 2021-04-15 22:07:21

I love the new base !!!

𝗘𝗗𝗘𝗡 ☀️
#1257


Posted 2021-04-15 22:07:28 (

edited

)

Yay news !!!!!  

i love the new base, can't wait for RO~~~


ḉ ḙ ℓ ḙ ṧ т ! ᾰ ℓ
#41188


Posted 2021-04-15 22:07:41

Beautiful base!! I'm so excited!


Katmars
#37172


Posted 2021-04-15 22:07:51

so excited!


Athena
#10233


Posted 2021-04-15 22:08:03

Gotta say, I think I like this base more than Selene 👀


Remmie
#8429


Posted 2021-04-15 22:08:03 (

edited

)

HELL YEAH!!!!!! Love the backgrounds


Nysa
#5130