Main Content
Level
13

Strength
106
Speed
118
Agility
83
Wisdom
136
Smarts
91
Total
534
This wolf cannot be retired right now!
This wolf has been leading Crimson Fang Pack since 2021-08-03 13:09:35.
Currents
Age
4 years 8½ months (Adult)
Sex
Male
Energy

Hunger

HP

Personality
Arrogant
Breeding Information
Age in Rollovers
113
Pups Bred
5 pups bred
Last Bred
1 day ago
Fertility
N/A
Heat Cycle
N/A
Items Applied
None!
Pair Bond
Looks
Base
Piasa

(0.07%)

Base Genetics
Warm Light III
Eyes
White
Skin
Black
Nose
Black
Claws
Bone
Mutation
None
Secondary Mutation
None
Carrier Status
View Report
Variant
Default
Markings
Slot 1
Ducat Tamaskan Unders (44%)
Slot 2
Gray Blanket (80%)
Slot 3
Black Unders (100%)
Slot 4
Black Dorsal (100%)
Slot 5
Cream Predator (90%)
Slot 6
White Predator (83%)
Slot 7
Black Predator (100%)
Slot 8
Black Carnage (100%)
Slot 9
White Highlights (67%)
Slot 10
White Spectacles (62%)
Biography
"Lead me, follow me, or get out of my way."

────────────────────
"Sir Riot, Alpha of the Crimson Fang Pack. Preceded by Diablo. Son of Pita and Scorpius."

Description
:
"Riot is a towering, broad-shouldered, muscular wolf. He seems to always be in a permanent, scorful snarl. He's a bit self-centered and snappy, and tends to admire himself a little too much. However, he has a soft spot for pups- and his mate, Bellatrix."

Backstory:

"Before becoming a part of the Crimson Fang Pack's legacy, Riot sought refuge with humans. He became a sensation- helping the humans with their hunts, guiding them to new locations, and even guarding their livestock. However, urban legends about his kind had drove the humans into madness- Myths that he would bring destruction into their precious lives. They then drove him out of their damned territory- with their banging sticks (guns) and fire stakes (torches).

Riot, who was once softened and tamed, sought revenge and absolute fury on the humans. The collars he wore only reminded him of the human's foolish ways- that they had marked him as their own. Coming back to his senses and wild instincts, he roamed the entirety of the forests, searching for migrating humans and taking over their hunting grounds- until all of them were under his name, and there were to be no humans in sight.

That is, until he came across a timid she-wolf, Bellatrix. She approached him without hesitation, and admired him. Alarmed, he snapped at her to back off, but she wouldn't budge. After a series of quite personal questions, she invited him to stay with her pack. Thinking about his plan, he refused. However, Riot felt amused by her- an emotion he hadn't felt other than pure hatred for a while. He allowed her to take him to meet the rest of the pack.

Diablo- who was Bellatrix's father and Alpha of the Crimson Fang Pack- was extremely wary of Riot. He had caught whiffs of humans throughout his territory- but it didn't turn out to be humans at all- it was this wolf. Thinking that Riot would lead humans into his territory, he thought about chasing him. However, his daughter persuaded him to let him stay.

After becoming adjusted to the pack, (and boasting at Mirage for a bit), Riot made himself at home. He slowly, but surely, gained the pack's trust and respect (and went head over paws for Bellatrix). He became a fine scout, and even impressed Diablo. Some of the wolves didn't agree with Diablo's decision on making him the next lead, but he fit right in.

Formerly thinking that his tags were something to be ashamed of, they remind him daily of how far he's come. He now (proudly) leads the Crimson Fang Pack."
────────────────────
Sex
: Male
Rank
: Alpha
Preceded by
: Diablo
Succeeded by
: N/A (
possibly Augurd
)
Personality
: Arrogant (
aggressive
)
Mate
: Bellatrix
────────────────────
Stud information:

⛓️ "LET'S START A RIOT!" ⛓️ New TIII PIASA stud! (ALBINO CARRIER!) 300

or 3

! https://www.wolvden.com/wolf/2543857
Starting stats
: 334 stats
Carrier status
: ALBINO CARRIER (1/3)
Fully customized
: 10/10 markings
2nd generation.

──────────────────────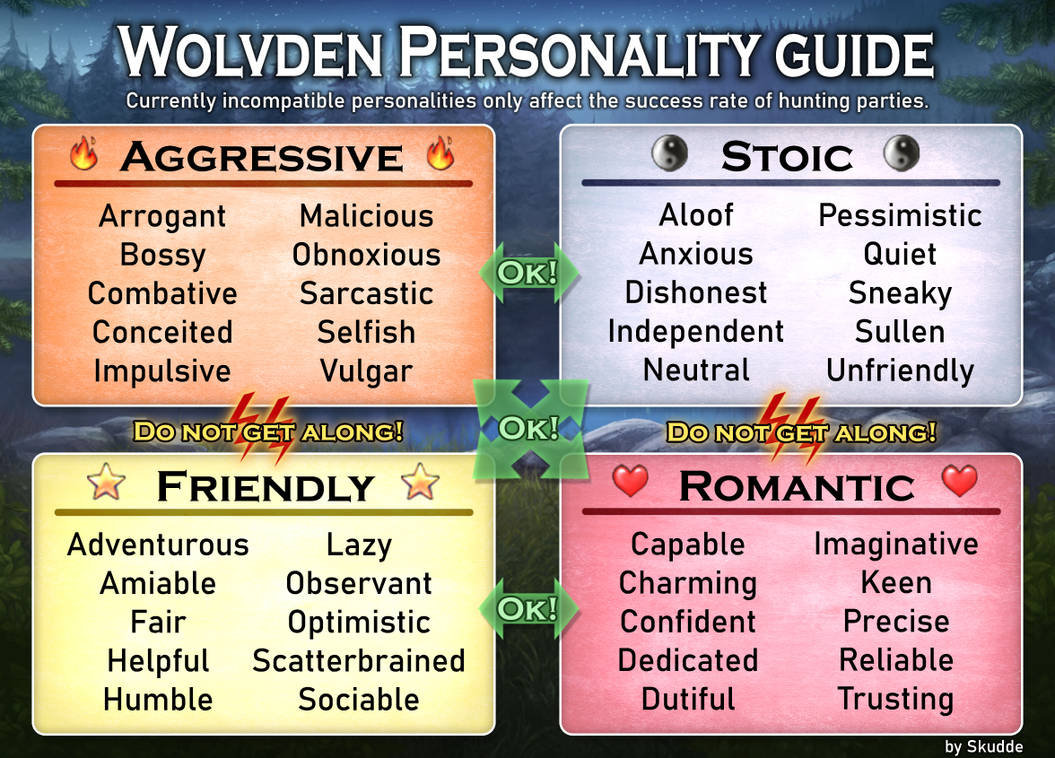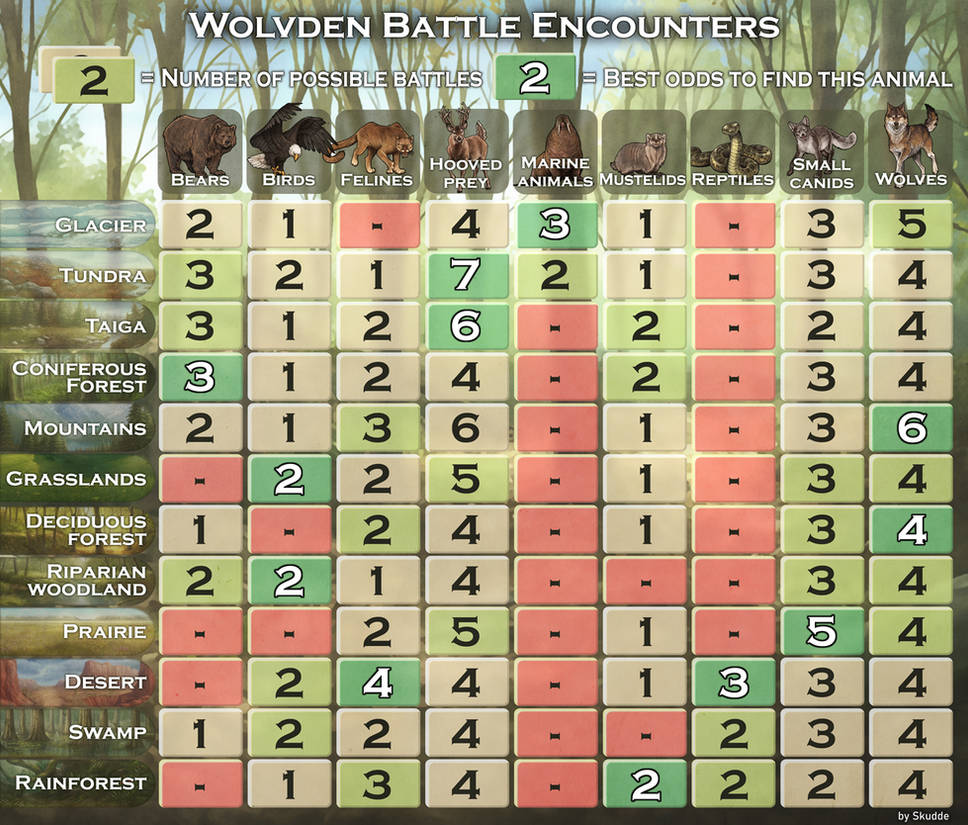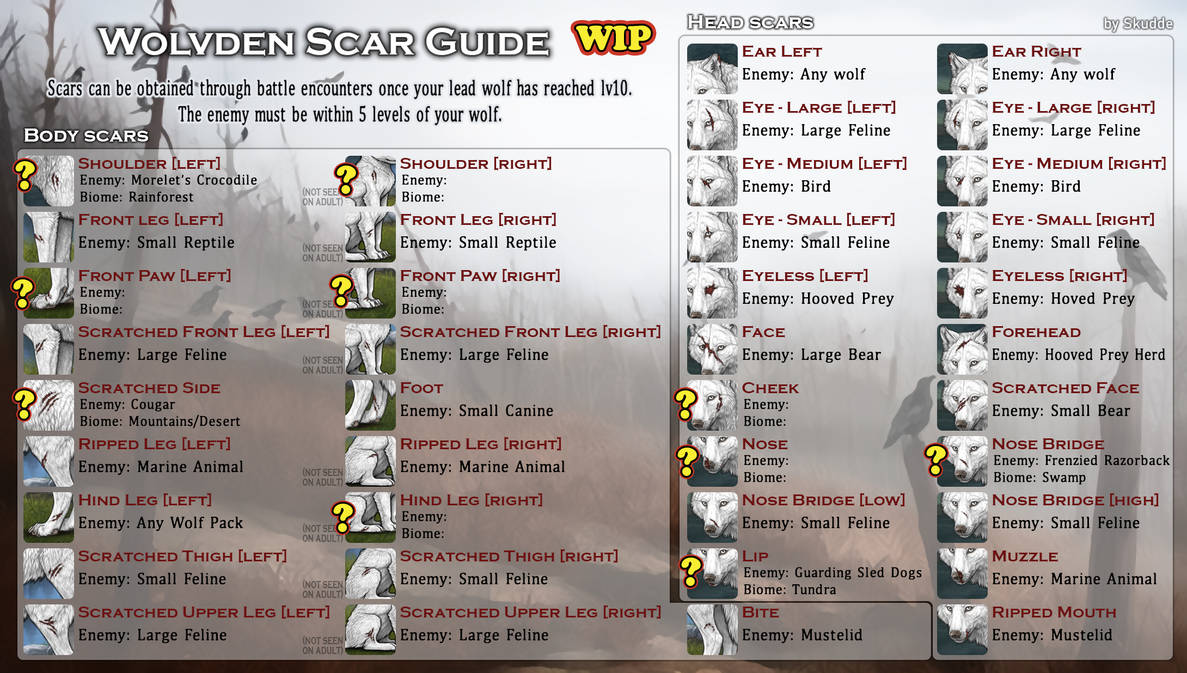 Decorations and Background
Background

[USA] North Carolina - Blue Ridge Mountains
3 uses left
---
Decorations
Above
---
Below
---
None equipped!
Currently
Lead Wolf
Proficiency
Hunting: Stalking

Hunting: Chasing

Hunting: Finishing

Scouting

Herbalism

Pupsitting
| Statistic | Count |
| --- | --- |
| Total Number of Scouts | 28 |
| Total Number of Hunts | 0 |
| Successful Hunts | 0 |
| Total Number of Lessons Taught | 0 |
---
In current pack for 60 rollovers
Wolf created on 2021-06-03 19:00:23