Main Content
Posted 2021-12-24 16:20:57 (

edited

)
Community Update Day!
Just as a reminder, these updates are smaller and are more focused on the community.  Whereas Development updates are centralised on adding in new features, expanding upon or adjusting existing features, and implementing new artwork and coding, Community updates are meant to introduce weekly raffles, new weekly raffle studs, new polls, and showcase some minor changes and bug fixes that have been made in the past week.
Happy Holidays, Wolvden!!
As we get ready to say goodbye to 2021, we'd like to extend some heartfelt appreciation to all of you that have chosen to spend your days on Wolvden.  Whether you were a beta tester, joined during early access, or you've just registered today, we're grateful to all of you for your support, and we hope you continue to spend time with us and your wolves for many years to come!  From Wolvden's team to your homes, we wish all of you a safe, warm, and relaxing holiday while we get ready to welcome the new year.

Official Wolvden Raffles!
To celebrate the end of 2021, we are releasing three official raffles for you all to participate in!  These raffles all have the standard fee of 5 SC per ticket, with a limit of 1 ticket per account.  You can enter all three raffles if you'd like!

Enter Official Raffle #1 for a chance to win some GC!



Enter Official Raffle #2 for a chance to win some Grove items!



Enter Official Raffle #3 for a chance to win some event items!
All three raffles will automatically end on 2021-12-31 at 00:30.
Customiser Contest!
In addition to the above raffles, we're also giving away 5 fully customised wolves!  You can design your dream wolf and submit it for a chance to have that wolf join your pack!
Entries are free!  You can submit one entry, but you're welcome to change your entry as you wish.  You must have a territory slot free at the time of the contest draw to be eligible to win a custom wolf.
Winners will be pulled on 31st December 2021.  Winners are chosen by a random script, but the action is done manually.  We will get as close to 12:30am (00:30 Wolvden time) on that date as we can for closing time.
Minor Update to Daily Rollover
A small change has been made to the rollover process. Starting with tonight's daily site rollover, you will be met with a screen similar to this if you try to roll over within the first minute or so.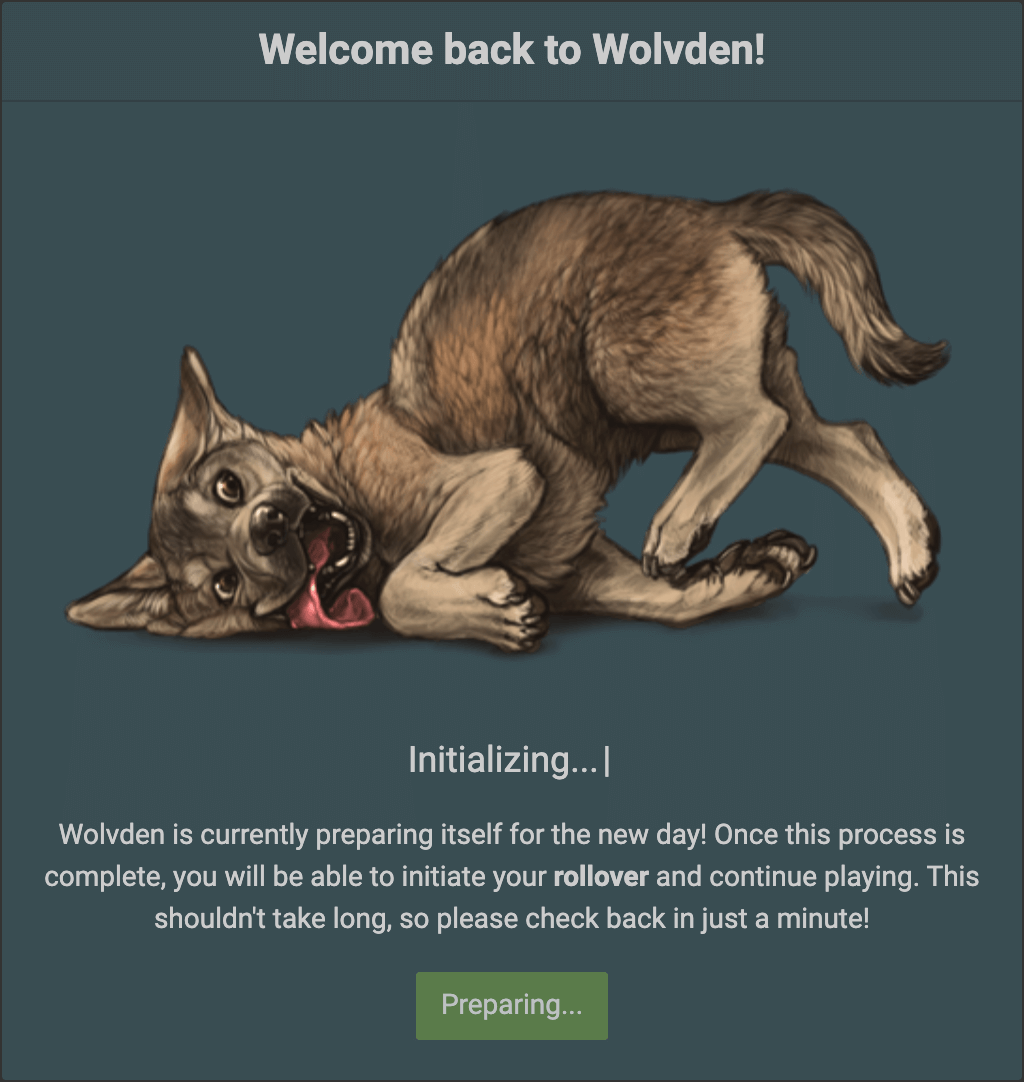 This is to allow the site to finish its own rollover before allowing you to start your own. Once the site finishes its work in the background, the page should refresh automatically. If it does not, you're encouraged to reload it manually to see if the button is available. Hopefully this will help with some of the issues caused by trying to roll over too quickly after midnight!

New Chat Channel: "Giveaways"
We have noticed throughout the past few months that giveaways are becoming more and more frequent within Main Chat on Wolvden.  While we appreciate and encourage the generosity many of you exhibit towards your fellow players, we have noticed that giveaways tend to overtake the chat room very quickly—oftentimes, there are more giveaways occurring in Main Chat than actual chatter, whether it's regarding the game or another subject.
To hopefully bring Main Chat back to its original intent (a general chatter area for players to talk about anything in line with Wolvden's site rules), we have implemented a new chat channel: Giveaways Chat.  You can find this channel in between Art Sales and Help within the chat box dropdown and the chat room.
Giveaways Chat Rules
Begging is not permitted within Giveaways Chat, nor any other area on Wolvden.  You may not ask for or request giveaways within Giveaways Chat, as this falls under begging.


Games that require players to comment in the chat room are not permitted within Giveaways Chat (e.g. guessing games, first to call out a number, first/last to ping, etc.).  An alternative could be to advertise a giveaway as "first to PM me receives XYZ asset"; otherwise, these games would better suit the forums.


You may not respond to giveaways within Giveaways Chat.  If you're interested in a giveaway, then you must either PM the player that posted the giveaway, or post on their forum topic if one is linked.


Multiple players can post giveaways at one time, though each player can only post once every 10 minutes in this channel.  As soon as you send a message in Giveaways Chat, a built-in timer will prevent you from posting in there again until your 10 minutes is up.


If you have a lot of assets to give away, it may be in your best interest to set up a forum topic, which you can then link to within Giveaways Chat.


Offers for free artwork are permitted within Giveaways Chat.


Assets up for raffle, sale, or trade where you intend to make a profit off of them may not be posted within Giveaways Chat—only assets that are free or refunded can be posted.  It's not exactly a giveaway if you're offering a wolf that has a buyout of 15 GC, or an item that you'd like to exchange for another item.


All chat room rules apply to Giveaways Chat.


With the implementation of a Giveaways Chat, all giveaways must now be posted within Giveaways Chat.  Players are no longer permitted to offer giveaways in Main Chat.  Players will be given one week from today (up to December 31st, 2021) to adjust to this new ruling before our staff team will take action against them.
Regarding NFTs
It has come to our attention that some of our artwork and assets are being uploaded to other websites without our consent or permission.  Lioden Ltd will never list our art or any other assets for sale via NFTs.  If you spot our art being sold on an NFT marketplace, then that means it has been stolen.  We would welcome your reports to us about any listings, or, if you feel comfortable reporting it to the marketplace on our behalf, then we would be more than happy for you to use this statement to back up your claim.  To those of you that have already contacted us so far, we greatly appreciate your vigilance!
Raffle Stud Winners and New Raffle Stud!
Congratulations to the players that won a breeding with last week's raffle stud!  You'll know if you won, as you'll have received a Game Notification in your inbox informing you of such!

As a reminder, the previous raffle stud's exclusive attributes was the Cream Lupos marking!  Cream Lupos is now able to be applied via Random Marking Applicators and Total Shuffles.  The combo markings Tuff Lupos and Zircon Lupos have now been released as well!
Our newest weekly raffle stud has been released!  His special attribute is the new Red Wings Heavy marking!  Enter for a chance to win a breeding with him by clicking here!
Poll Results!
Thank you all for voting on last week's poll!  Most votes were hoping for raven-themed items, as well as spooky, Lovecraft-inspired trinkets.  Great choice!

For our new poll: Do you own (or have ever owned) a Pose Variant [Sentinel]?  Please cast your vote by clicking here!
Minor Addition
* Added a new Stockpile subforum: Giveaways. Topics posted here can be linked in Giveaways Chat.
Minor Change
* Feed/Play From Stack now auto-selects the next wolf in the list.
Bug Fix
* Bug fix confirmed for Removed offer on trade and it didn't give back items.
* Bug fix confirmed for A wolf that should be tradeable isn't showing up in the offer box.
* Bug fix confirmed for RO Twice.
* Bug fix confirmed for Wolf without her puppies.
* Bug fix confirmed for Wolf fed from stack to "120%", conflicting user log data.
* Bug fix confirmed for Antarctic / Eclipse Items Not Available in Lunar Shop.
* Bug fix confirmed for Feeding from stack does not return to sorted hoard when stack empty.
Posted 2021-12-24 16:23:58

Merry Christmas everyone!

CrownOfRoses
#15588


Posted 2021-12-24 16:24:10

I do appreciate the giveaway thing just because of how heated chat gets sometimes about it
꧁𝓢𝓦𝓔𝓔𝓝𝓨꧂
#32392


Posted 2021-12-24 16:25:57

Nice !! Happy holidays Wolvden <3
MVTT
#54092


Posted 2021-12-24 16:26:09

NBW Dreams do come true

Wallpaper [sobbing]
#49398