Main Content
𝘕𝘰𝘳𝘵𝘩𝘦𝘳𝘯 𝘓𝘪𝘨𝘩𝘵𝘴
5 wolves in this pack may leave due to neglect!
✨ Welcome to Northern Lights pack! ✨
🖤 Home of the first Zircon on-site 🤍
Please enjoy your stay!
On the highest mountains peaks, following the steep paths leading to icy dried meadows and bushes which border darker woods, that's where they hide.
Based in the Mountains/Glacier, Northern Lights territory varies depending on resources and temporary needs. Generally, Lead wolves are chosen by the pack members and are assisted by a counselor, the Beta, whose role is aimed to guarantee order and stability.
✨ Reserved for art - lore content  ✨
x Lore is still a wip.
All art you see is mine.
Lead wolves
✨❄️✨
Aura/Nal
✨🔥✨
Low-key/Loke
Betas
✨❄️✨
Hans
Lead Wolf
𝙻𝙾𝚆-𝙺𝙴𝚈
For Stud
礼 Rei
| | |
| --- | --- |
| Played By | 𝑩𝒖𝒏𝒏𝒚 ✨ (#999) |
| Territory Biome | Mountains |
| Cave Slots | 10 / 10 |
| Pack Adults | 41 / 71 |
| Pack Pups | 27 / 355 |
| Immortal Wolves | 2 / 5 |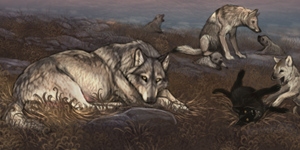 Nesting / Pupsitting