Main Content
Cursed Pack
Hi, welcome to my den! Feel free to send me a friend request ^_^ xx

You may know me as Darkblade on WolfPlay or as Darkrose5757 on Toyhouse. Feel free to reach out to me if you do :) xx
Greygender, Pansexual Person xx
They/Them pronouns please xx
Currently a breeder of: Tier 3's, Specials, Tier 2's, Albinism & Melanism.
Notes to self:
Check Wolf bio for their stud!
Pups wean at 2 and a half months, turn into adolescents at 6 months, and become adults at 1 year xx
Wolves have a chance of dying from 7years6months and auto die at 8 xx
Best Stats for each role: Stalker: Smarts & Wisdom. Chaser: Speed & Agility. Finisher: Strength. Scout: Stamina. Herbalist: Smarts & Wisdom.
Mutations:
link
Guide to everything:
link
Heat Calculator:
link
Trophies:
link
Food/ Carcasses:
link
Where to find each item:
link
Personalities for hunting:
link
Befriending moves:
link
Lick toad in Mountains (only comes out at night)
Can find poses from re-scouting unlocked areas - The Pose Variant [Sentinel] applicator requires 2x Wolf Skulls, 2x Wolf Tails, 4x Canine Fangs, 4x Canine Claws and 15x Glowing Spores! The applicator has one use, therefore can be used once on an adult wolf of your choice. To remove the pose, you will have to use the Variant Removal item.
Where Each Animals Found:
link
I did join Wolvden when it was first released publicly but then some life stuff happened and I had to leave it again. I joined back on 1st August 2021 xx
Pack Leader
ThunderStrike
For Stud
Dusk Nightmare
| | |
| --- | --- |
| Played By | 🥀Darkrose🥀 (#6724) |
| Territory Biome | Deciduous Forest |
| Cave Slots | 6 / 10 |
| Pack Adults | 79 / 81 |
| Pack Pups | 88 / 405 |
| Immortal Wolves | 1 / 1 |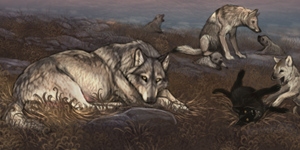 Nesting / Pupsitting