Main Content
Moonpaws
Hi! I have one request:
Please address me by my current lead wolf's name.
This pack mostly inbreeds, because we try to be realistic.
Any wolf marked with

is free to claim. DM me/reply to my
topic
and you can have the wolf for free! Any wolf marked with 💲 you can DM me to bargain!!
Wolves that are traded in, adopted in, or befriended in go to the Quarantine den, so that our Healer can check them over to make sure they haven't got a disease. If they do, we'll fix them up right away! If Icepool cannot detect anything wrong, they will be kept there for a few days, just in case. A cooldown, basically.
Befriended/traded/gifted adult wolves have a cooldown of 7 rollovers.
Elderly wolves (wolves above 6 yrs and 6 months) have a cooldown of 5 rollovers.
Adolescents have a cooldown of 3 rollovers.
Puppies have a cooldown of 1 rollover.
What I am currently looking for:
- Custom Decors, Backgrounds, Decors, GC/SC, fox base wolves, losna base wolves, and moonlight base wolves. Wolves with losna and/or moonlight markings are also wanted.
What I am currently selling:
https://www.wolvden.com/trade/3252055
https://www.wolvden.com/trade/3201920
Stud available: Yes
If the suffix of a name is:
Pup = Puppy
Paw = An adolescent
Other = Adult
Stone = Beta
Star = Alpha
This is a strict pack, very much like a realistic one. This pack also roleplays.
(most important on top; least important on bottom) Hierarchy:
Moonstar
Ashstone
Firewood
Ashpelt
Pebbleheart
Silverclaw-Blueheart
Fawnwhisker-Cinammonspeckle-Whitepelt
Woodfur
Daisydawn-Sunshine
Foxfire
Mapletuft-Snowfrost
(New Befriended Wolves)
(Adolescents and puppies)
Log and wishlist on profile page
Thanks!
Moonstar
Alpha
Moonstar
Beta
Ashstone
| | |
| --- | --- |
| Played By | AbbyWolf (#58170) |
| Territory Biome | Taiga |
| Cave Slots | 4 / 10 |
| Pack Adults | 23 / 25 |
| Pack Pups | 24 / 125 |
| Immortal Wolves | 0 / 0 |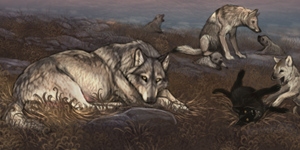 Nesting / Pupsitting