Main Content
Lady's Chosen
1 wolf in this pack may leave due to neglect!
(poem goes here)

Drawing Down the Moon
It was a crisp late summer night, and Silent Whisper and Frosted Stone had spent most of the night climbing up the mountain, resting as they reached the tree line. Along the way they had talked about their chance meeting. They came from different packs, and earlier in the day both of them had a strong impulse to come to this particular mountain and climb it to near the top.As they rested, they looked up at the full moon, looking bigger than normal and shining pale blue in color, as it sat in the sky above the peak.
They watched as it started to go down, and it looked like it was touching the peak of the mountain before them. Then it got smaller somehow, and after a few moments started to change shape, keeping its pale blue glow. What could this be? they wondered aloud to each other, and continued to watch with much curiosity.
To their surprise, the glowing shape started getting closer, as it was coming down from the mountain peak. Soon it was in front of them and the shape became more clear while the glow faded. Paws walked on air, fur the color of the moon, massive silver wings folded in, tail swishing, eyes keen and old and wise. Light colored silks were draped along the body, and luminescent stones were worn on the head, body and neck. And so she spoke to them in dulcet tones.
(WIP)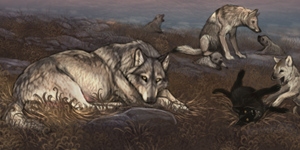 Nesting / Pupsitting