Main Content
Grenian Grotto
Banner made by Acari WD#2606
ToT WL: Anything and Everything is Good!
Wolves on ToT Duty:
Roach and Hawk
Betelgeuse
Tin
Dabih
Whale and Moth
Unimportant Rules of Pack
Lead Wolf Is Related to Original Starter Wolf Pair
Herbalists Related to Original Herbalist Line
One Scout Will be Related to the Original Scout Line
Scouts Will Have An "Outsider" (NBW) as Secondary Scout
All Lineage Lines will be pair bonded to another wolf (NBW unless a better wolf is found)
Breeding Male doesn't have to be born in pack
---
Notes on Lineages:
RH = Roach-Hawk line (Original Wolves)
RH Line follows bug names
SK = Sage-Kala line (Original Herbalist/Pupsitters)
SK Line follows herb names
OS = Otter-Seal line (Original Scout)
OS Line follows sea creature names
BT = Beltelgeuse-Tin line (Original 2 Hunting Parties)
BT Line follows Space/Metal names
Notes on Caves:
1. Herbalist/Scouts - Holds current Herbalist and Scouts
2. Hunters - Holds current Hunters
3. Pupsitters + Nursing - Holds all pupsitters + nursing parents
4. Weaned + Adolescents - Pups and Teens I'm keeping and training
5. Ridding - Holds Wolves that are leaving pack one way or another
Notes on Names:
Pup Names:
Pups with the name R are pups I'm getting rid of
Pups with the name K are pups I'm keeping (but haven't named)
Pups with the name M are pups I'm considering keeping
Notes on Symbols:
Important Lineages
🐛 (Roach-Hawk)
🌿🐾 (Sage-Kala)
🦦 (Otter-Seal)
⚔️ (Betelgeuse-Tin)
💞 (Breeding Male)
Personality
☯ (Stoic)
💗 (Romantic)
⭐ (Friendly)
🔥 (Aggressive)
💭 (Neutral)
Job(s)
🦅 (Scout)
💊 (Herbalist)
🗡️ (Hunter)
🍼 (Pupsitter)
Hunting Team Info
💎 - Precious Metals
🌠 - Star Gazers
🍃 - Earthen Wind
S = Stalker | C = Chaser | F = Finisher
---
Pack Name Meaning:
The pack name Grenian Grotto comes from the Old English word "Grenian" which means "to become green" and then Grotto "a small cave".
The pack itself lives in a grotto surounded by a chestnut grove. This will be explored more later in pack lore.
Lead
Roach
Companion
Hawk
| | |
| --- | --- |
| Played By | deroached [Lights On!} (#47602) |
| Territory Biome | Deciduous Forest |
| Cave Slots | 5 / 10 |
| Pack Adults | 19 / 19 |
| Pack Pups | 23 / 95 |
| Immortal Wolves | 0 / 0 |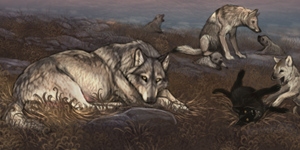 Nesting / Pupsitting