Main Content
Convocation of the Damned
Unless I physically post something saying a wolf is up for sale, or it is in the sales tab on my page; please don't send me unsolicited messages about it.
It's not only annoying getting mystery messages from people out of the blue, it's also against TOS. I won't do anything rash like block you, or anything.. But I most likely won't respond to DMs such as this.
"The rains have ceased, and we have been graced with another beautiful day. But you are not here to see it."
-Elidibus [Patch 5.3 FFXIV]
Above Art by #4191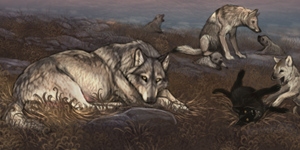 Nesting / Pupsitting