Main Content
The Den Of Bones

𝔄𝔟𝔬𝔲𝔱 𝔪𝔢:

Call me Nimbus!
|

My sister is Wis (#41297)
DM me if you need any help, stay safe!

𝖂𝖊𝖑𝖈𝖔𝖒𝖊!


You look around the foggy, wet, misty, what even is this? Forest? Close enough. You pad around, unable to see anything, until- ahh! You fell and tumbled down a short slope. "Hehe!" A young wolves voice laughs. "Shh! You'll scare it. Hello. I'm Barnaby." Another warm voice, more older than the last barks gently. "Stay for a bit won't you? It's been a few of our wolves lives since we last had a visitor." He smiles hopefully.



𝕾𝖙𝖚𝖋𝖋

Hi! I love piebalds :) I'm hoping to breed as many as possible.

I like to keep my wolves low gen. Generation 4 is the max!
I am hoping for most of my future studs to be piebalds.





Alpha
☆ Barnaby ☆
| | |
| --- | --- |
| Played By | 𝔑𝔦𝔪𝔟𝔲𝔰 (#41858) |
| Territory Biome | Mountains |
| Cave Slots | 4 / 10 |
| Pack Adults | 14 / 25 |
| Pack Pups | 6 / 125 |
| Immortal Wolves | 0 / 1 |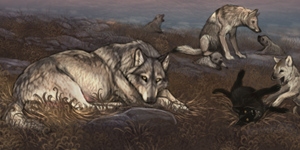 Nesting / Pupsitting