Main Content
Scarred Pride
5 wolves in this pack may leave due to neglect!
The founders of The Scarred Pride Wolf Pack:

My name is Samantha but everyone calls me Luna, Sam, Kara, or Ace. I'm 17. I love wolves, reading, drawing, and playing guitar/singing! DM me if you wanna vent, roleplay, or just chat! I love to use the Wolvden chat lol! My favorite games are Wolvden, Minecraft, League of Legends, and Final Fantasy. I have a dog, his name is Koda and he is a Great Pyrenees also known as a Pyrenees mountain dog.
---
Number of Wolves Raised and Chased: 532

---
Pack Lore
Your paws walk along the damp cold ground. You're alone and it's getting dark. You can't smell any other wolf scents. It's like this place has been abandoned. You hear the light sound of paws on the ground behind you, you turn around and prepare yourself for the worst. But instead, you see an old male wolf with cyan blue fur and dark blue eyes. He slowly starts to growl. "My name is Damian...what's your name?" You tell the old wolf your name and you also tell him that you're lost and tired. He sighs and turns around. "Come on young one...I can give you shelter but food is scarce right now" You blink slowly to show respect to this elder and then you follow him. You and the elder come to a sudden stop and are greeted by a sweet She-Wolf. "Welcome back Damian! Who's your little friend?" Her tone is quiet and soft. Damian starts to speak…" I found this young wolf in the forest...they say that they are tired and weak" A male wolf appears. "Let's see how Luna feels about this one" His voice is bold yet friendly. You kindly ask who Luna is. The She-wolf starts to speak "She is the alpha of Scarred pride...our pack!" The wolves walk through the entrance to the main camp. In a friendly tone, Damian starts to speak…" Young one...Meet the Pack '' You look all around and see many wolves of different ages walking around in small groups. Your face lights up with excitement and you start to smile.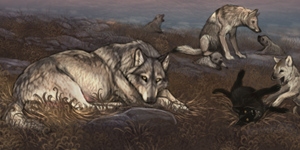 Nesting / Pupsitting