Main Content
Darkness Stalkers Pack
2 adolescent wolves in this pack may leave at the next rollover due to overcrowding!
Just some sad stuff 😢
------
The colours in the sky made Saoirse's heart fly.
She sat upon a hill, watching the sun set, her pups, Laoise and Daire beside her. This day would be the last with Laoise, she knew. Tomorrow, Laoise would disobey her orders, and stray from the pack. Saoirse had told her time and time again, but there would be no avail. A diseased has told her so. And wise seeds got their name from being smart. So Saoirse waited for the dreadful death of her youngling. Waited for Laoise's spirit to leave this world.
------
Daire was to be sold. Andrei had told her not to, but she could not provide for him, when he looked so much like Laoise. So Daire would be sold... 
Saoirse cursed the seer. Cursed her colourful and horridly. Daire appeared at her side. a
"Mama," he said, "Mama, when do I go?"
Soiree responded, "As soon as Silva and Oak show up."
 And that was that.
Alpha Saoirse
Beta
Beka
| | |
| --- | --- |
| Played By | ℛ𝑢ℯ𝕽𝖚𝖊 (#41092) |
| Territory Biome | Deciduous Forest |
| Cave Slots | 3 / 5 |
| Pack Adults | 8 / 9 |
| Pack Pups | 21 / 45 |
| Immortal Wolves | 0 / 0 |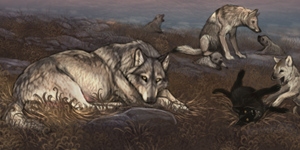 Nesting / Pupsitting