Main Content
Начало конца
Each biome and its corresponding stat is listed below.
Deciduous Forest: Speed
Grasslands: Speed
Mountains: Speed
Coniferous Forest: Smarts
Prairie: Speed
Riparian Woodland: Wisdom
Desert: Strength
Taiga: Agility
Swamp: Agility
Tundra: Smarts
Glacier: Wisdom
Rainforest: Strength

The Stalker requires high Smarts and Wisdom.
Chasers require high Agility and Speed.
The Finisher requires high Strength.
Aggressive — Combative, Arrogant, Bossy, Conceited, Impulsive, Malicious, Obnoxious, Sarcastic, Selfish, Vulgar.
Friendly — Adventurous, Fair, Friendly, Helpful, Humble, Lazy, Observant, Optimistic, Scatterbrained, Sociable.
Romantic — Capable, Charming, Confident, Dedicated, Dutiful, Imaginative, Keen, Precise, Reliable, Trusting.
Stoic — Aloof, Anxious, Dishonest, Independent, Neutral, Pessimistic, Quiet, Sneaky, Sullen, Unfriendly.
Lead Wolf
wolverine
Featured Wolf
Sterling (0.36%) II 9M
| | |
| --- | --- |
| Played By | Xedev (#35834) |
| Territory Biome | Mountains |
| Cave Slots | 6 / 10 |
| Pack Adults | 33 / 35 |
| Pack Pups | 8 / 175 |
| Immortal Wolves | 0 / 0 |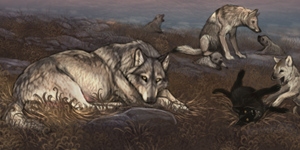 Nesting / Pupsitting