Main Content
Exioptera
(CUSTOM DECORS HERE)

See this thread for pack lore, stat records, the Stalker Swap training method, detailed hunting exp records for different biomes, and more.
---
My dream wolf was obtained 20/05/21; a G1 realgar purchased for my wolf life savings. That wolf is now Khatvana, my beloved lead, highest stat WD3 G1 in the game.

---
THE HUNT OF SIX WINGS


This den breeds for high stats, and selectively breeds for hunters. Any breeding involving my top hunters will match them to a stud with high stats in their particular role, resulting in specialised hunter pups.

The overarching goal of this den is to produce a team of hunters capable of taking large prey in the Glacier or Rainforest.
Wolf footnotes: 𝕂𝕜 and 𝕊𝕜 are shorthand for Kemasi-kan and Sinanil-kan, the two categories of gender recognised in this pack's lore. The former will usually use she/her pronouns in this language, and the latter they/them or they/he or they/he/she by preference. The pronoun particles in our native language for the two categories are 'si' and 'va' respectively. 
---
CURRENT PROJECTS
High stat low-gen realgars: Aiming to breed one or several lines of lowgen WD3 wolves, with role-specialised stats. Khatvana x G1 Pyrope or Ena = strength line. Soon to work on a chaser line too.
Het eyed low-gen realgars: aiming to obtain a g2 or g3 het realgar via breeding to Khatvana. This realgar will then be used to start a breeding program to churn out het realgars or pyropes to raise and chase. 
Queen
ke Khatvana
Featured Wolf
Anhacari
| | |
| --- | --- |
| Played By | Spontaneite (#2993) |
| Territory Biome | Taiga |
| Cave Slots | 8 / 10 |
| Pack Adults | 80 / 83 |
| Pack Pups | 114 / 415 |
| Immortal Wolves | 0 / 0 |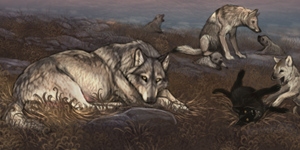 Nesting / Pupsitting