Main Content
The Wolves of Midgar
Meet The Wolves of Midgar....
living deep in the slums of sector 7...

Moomba

Moomba is the pack leader, with his failiar red & white pembroke welsh corgi, Ein by his side, he manages the pack. Though the packs leading familiar is
Legend's Elsa.
Moomba is fearless and
will take on any challenge to protect his pack.
Legend
*info here*
Lintu
*info here*
Aki
*info on cardigan line here*


Bloom

*bloom info here*
Kohaku
Kohaku is the packs lead chaser in hunts, she has never missed her role and found her true calling. Marked like a bi color GSD, she sure has the personality of one! Aloof as all hell, and an independent thinker which helps to her advantage on the trails while catching prey. She's speedy and swift with the elegance of a gazelle.  She is the most reliable of the pack.
Legoshi
Legoshi is shy and quiet, she is filled with anxiety and prefers to work solo. Stargazer gave her the role of scout and she does that with such pride. She often thinks about how perfect the job is for her as she gets to work alone. She enjoys helping teach the pups of the packs future the leads of the lands as she finds them easier to talk to IF she has to.
Midgar Pack Lore

Moomba is the official pack leader, those that came before him fell in shambles. He was thankfully able to pick up the pieces of the Midgar wolves. With his pack and their familiar corgis guiding them through the slums, they are managing now better then ever. Without his leadership, and Legend's corgi familiar Elsa, they wouldn't be here today.




Goals:
restarted 7/25/2021 as the previous ones were complete!
Edit Lintu II, Asuramaru, I like you, a lot., Grimore!
Chased Hetero wolves: 47

Breeding partners with Corgi Le Fae
L-R
Legoshi, KOhaku, Stargazer & Zeke.

Midgar Pack Tags
llnesses & Links
---
Contagious illnesses: cough (21%), distemper (18%), ear mites (60%), fleas (36%), hepatitis (18%), influenza (90%), mange (18%), pox (18%), ringworm (18%)
Lethal illnesses: distemper, heatstroke, infection, poison, pox (puppies only)
-----
Links:

Breeding
Personality Chart
Markings by Tier

Genetics Calculator

Marking Rarity Charts (WIP)
Aggressive and Friendly personalities do not get along, nor do and Romantic and Stoic personalities.
Stalking = Wisdom & Smarts
Chasing = Speed & Agility
Finishing =Strength
Pack Leader
Toreth
Featured Wolf
Aki
| | |
| --- | --- |
| Played By | Mikasa (#27066) |
| Territory Biome | Deciduous Forest |
| Cave Slots | 7 / 10 |
| Pack Adults | 59 / 114 |
| Pack Pups | 37 / 570 |
| Immortal Wolves | 1 / 1 |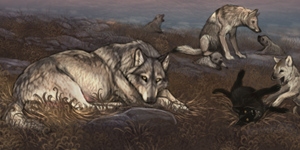 Nesting / Pupsitting