Main Content
Crimson Fang Pack
46 wolves in this pack may leave due to neglect!
● Welcome, to the Crimson Fang Pack. ●
"Royalty, nobility, and vigor."

Crimson
.
The color of the thorned-roses that ever so slightly prick at the soles of your wolf's paws.
The color that coarses through our veins.
The color of bloodshed.
And though your sins are like scarlet, they shall be as white as snow; though they are red as Crimson, they shall be like wool.

ᴘɪᴄᴛᴜʀᴇᴅ ᴀʙᴏᴠᴇ, ʟᴇꜰᴛ ᴛᴏ ʀɪɢʜᴛ: ꜰᴏʀᴍᴇʀ ʟᴇᴀᴅꜱ ᴅɪᴀʙʟᴏ, ʀɪᴏᴛ, & ᴅᴀʀᴛʜ.

● Pack Code ●

"For the strength of the pack is the wolf, and the strength of the wolf is the pack."


● Hierarchy ●

The Alpha (Lead)- the Alpha is the leader of the pack. They provide leadership and order to their pack.

The First She-Wolf / First Sire - The mate to the Alpha. They provide comfort and companionship to their mate, and provide security over the pack.

The Beta - The Beta is second-in-command. They order the pack under the Alpha's rule.

────────────────────

The Herbalist - Cares for those who're ill.

Resident - A herbalist in training. They may take over the current herbalist's duty if they're nested, or nursing their offspring.

────────────────────

Chiefs - The lead hunters. They command and lead their troops to their hunt.

Interrogators- Wolves who track down their prey's scent.

Executives- Wolves who make quick decisions based on the situation of the hunt.

Flankers - Wolves who find the weakest link of a herd / group of animals by scouting beyond.

Congregationers - Wolves who herd and surround their prey.

Cue - Wolves who signal the final blow.

────────────────────

Scouts - Wolves who patrol the territories' borders.

────────────────────

Pupsitters - Unranked individuals (commoners) who help care for the pups.

Mentors: Retired, elderly wolves.

────────────────────


Omegas - Not necessarily a rank. A label given to those who're low in stats, 299 or under.

────────────────────


Alpha
ᴀᴜɢᴜʀᴅ
For Stud
ꜰɪɴᴇꜱꜱᴇ
| | |
| --- | --- |
| Played By | ● 𝐋𝐞𝐠𝐞𝐧𝐝𝐚𝐫𝐲 ● (#24355) |
| Territory Biome | Deciduous Forest |
| Cave Slots | 9 / 10 |
| Pack Adults | 46 / 46 |
| Pack Pups | 20 / 230 |
| Immortal Wolves | 0 / 0 |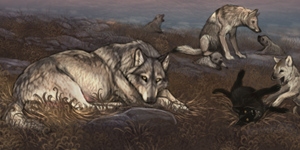 Nesting / Pupsitting