Main Content
Minhiriath
Lore
⓪ - Clean

♚ - Ruler (Ruling pair)
♛ - Heir (can be more than one.)
♕- Royal family by blood or warding.
♔- Member of Royal family by pairbond.
❁ - House Minhiriath.

༄ - House Thousand Rivers.

☽ - Carnile's Coven

▲ Clan Mirdala
✱ Clan of Woods
⇝ Clan of Mists
Ξ Clan of Streams
⁑ Clan Maan

X - No breeding
Houses - Clans and beings.
House Minhiriath
Ruled by - Glorfindel & Tinwë
Something something

House Thousand Rivers
Ruled by - Lórellin
Something something

Carnile's Coven
Led by - Carnile
Something something
History and Events
Currently - 8th year.
Calendar
Minyára /First-dawn - Spring-time/
Andar /Long day - Summer-time/
Dûloa /Dimming year - Fall /
Nílumë /Pale time - Winter-time/

The wheel:
- Total passage of time until world again becomes undone and new.
Rather abstract and mystical notion and there are many differing views of this and its meaning.
Yána
Yána - The Land

The land is wast, boundless in a way one cannot know.
There lives both man and beast and all things dead and alive.
Both miraculous and terrible and also the luminous ones, the keepers.

Map
Minhiriath/between the rivers/:
Forestland ruled by Glorfindel and Tinwë.
Its very name tells that its seated between two rivers that fork from one singular one.
River itself is called Urus /copper/ and its two children Telemnar /silver-flame/ and Mallumë /Golden-brook./

Féadun /River-land/:
Mostly rocky and lush forestland ruled by Lórellin of House Thousand River.
Land is precarious and navigated only by nimble feet with years of practice.
Fog is frequented in the area.

Curutaurë /Witch-Woods/:
Massive forest that acts as a border between north and south. Home for more than just witches and practitioners of dark arts, though later are frequent- there is simply something in there.

Clan-Lands:
Wolves here live in small families, led by parents. Eldest siblings tend to leave to start their own journey around 2 year old.

Sárahelca /Bitter-Ice/:
Ice cold dead lands somewhere in deep north.

Anandor /Sunland/:
There be dragons my child.
Queen
Mornwen
King
Maltlas
| | |
| --- | --- |
| Played By | Broody Mage (#23390) |
| Territory Biome | Deciduous Forest |
| Cave Slots | 7 / 10 |
| Pack Adults | 17 / 35 |
| Pack Pups | 10 / 175 |
| Immortal Wolves | 0 / 1 |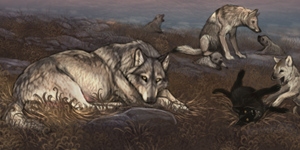 Nesting / Pupsitting