Main Content
Pack of Wandering Wraiths
1 wolf in this pack may leave due to neglect!
---
---
-note: hello! please do not dm me inquiring about any of my wolves UNLESS they are specifically in my [sales] cave or my [giveaways] cave.
as an exception, you may ask about unweaned pups labeled "enclave" as they are stuck to whatever cave their parent is in, but will just be going to the enclave anyway. thanks for reading!
---
---

drawn by me
---
---
Current Pack Leader
---
---
King
Dancer
For Stud
Clever
| | |
| --- | --- |
| Played By | ᠂ Sephan᠂ (#19309) |
| Territory Biome | Tundra |
| Cave Slots | 10 / 10 |
| Pack Adults | 71 / 100 |
| Pack Pups | 64 / 500 |
| Immortal Wolves | 0 / 1 |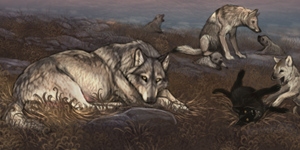 Nesting / Pupsitting