Main Content
Hollow Valley
The Eternal Pack
Deep in the heart of the Riparian Woodland is a small territory named Hollow Valley by the pack of wolves who dwell there. The Eternal Pack - founded by Alpha Bakura - was originally just her, her mate Nagera and their two pups Grey and Alexis. But with the addition of many others wolves over the years, the pack has grown. 
Alpha: Bakura || Bonded Mate: Nagera || Eternal Heir: Jaden || Riparian Stud: Cujo
Eternal Beta: Dulic || Herbalist: Kaeya || Lead Scout: Toriega || Lead Pupsitter: Skilara
Due to an accident with an older wolf during a hunt, it has been decided that all Eternal Wolves will retire at 7 Years 5 Months to live out their Golden Years in the Dynasty. The Pack also runs a Free Hospital, so if you are Sick/Hungry/Bored and need help, please come by.

May Fenrir Guide Your Way

Alpha Bakura [⚧]
For Stud
Kurama [♂]
| | |
| --- | --- |
| Played By | Bakura (#19129) |
| Territory Biome | Riparian Woodland |
| Cave Slots | 5 / 5 |
| Pack Adults | 55 / 80 |
| Pack Pups | 43 / 400 |
| Immortal Wolves | 0 / 0 |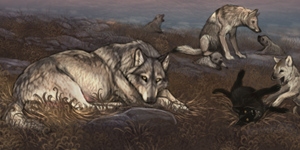 Nesting / Pupsitting