Main Content
Devil's Oath Pack
Helloo!! Welcome to my den page :D Incase you didn't see my profile, I use she/they pronouns! Also the green dot lies, I often leave tabs open when I log off
I log on around 14:00 wolvden time but with the holidays here its more like 15:00 lmfao and I generally log off two hours after rollover, 02:00! I'm in an Australian timezone, 18/19 hours ahead, I never remember lmao
I usually have a few trades up and quite a few of my puppies are reservable, just PM me!
try and get a commission of a frog in a trenchcoat throwing dandelions-
No longer looking for wolves, thank you! :D
~~~~~~~~~~~~~~~~~~~
Notes for me!
Mwsogl, lysieuyn, Addfywn, Mireinio, Addfain (team 2)
Get 1 Hunting Team (500+ stats) once main team gets to 6 yrs to train up for at least one main team, use under 400 stat wolves for spare teams
GC Goal!: 0\0 | SC Goal!: 0\0 | LT Total!: 0\0
LF: Backgrounds: Chaparral Shrubland, Ash Meadows, Dust Devil. Event Things: Luna Marking Applicator. Custom Decor: 4 Cowboy Hats, Vulture Family, Red Bandana, Braid Beads.
10 slots!!
pairbond: anadl and tylluan, sych and rhan
4\4 Canine Claw. 3\4 Canine Fang.
~~~~~~~~~~~~~~~~
Art!
LITERALLY THE BEST PHROG THERE EVER WAS THANK YOU SO MUCH
HALFSNAKE <3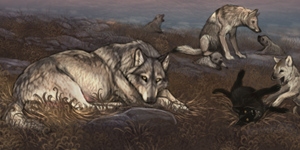 Nesting / Pupsitting