Main Content
Lunar Event #18! (July 15th - 21st, 2022)
Lunar Event #18! (July 15th - 21st, 2022)
Posted 2022-07-14 23:39:13
The Lunar Event Begins! July 15th, 00:00am WDT through July 21st, 11:59pm WDT
If you're new or you need a refresher on how the Lunar Event works, we recommend reading the Lunar Event announcement news post located here: LINK!
Now, we'll move to the part about the event updates! :D
New Shop Rewards and Wipes!
Just as we mentioned previously, the Caelum set is now gone from the Lunar Shoppe.  It will return during one of the upcoming real life Lunar events that we will announce in advance.  For now, let's check out the new set: Artemis!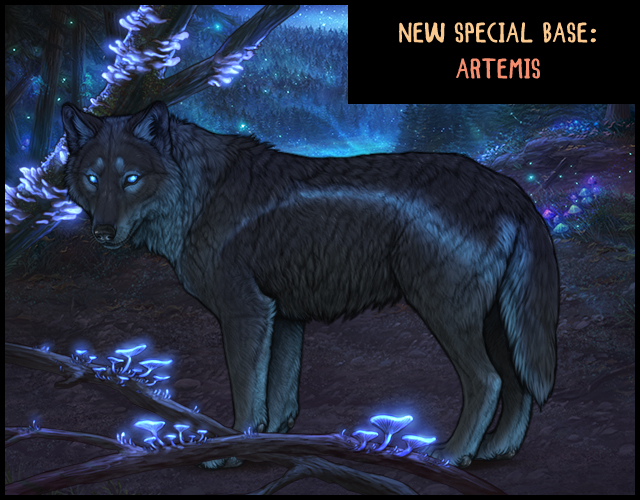 This event's new base is Artemis!  It is a Dark Special-tier base.  The applicator costs 500 LT.

The base comes with a matching set of Claws, Nose, and Skin: Apollo.



This event's unique Lunar eye applicator is Electric Blue!  Electric Blue eyes can pass Electric Blue and will fail to Blue and Ice.

Notice: The base, marking, claws, nose, and skin applicators that are available this week will be retiring after next month's Lunar event.  They will appear all at once during the next real life Lunar event of our choice.  The eye applicator retires this week, but it can also be found again in the Lunar Shoppe when a real life Lunar event occurs.  We will put out an announcement in advance when a real life Lunar event is approaching!
New Lunar Shoppe Offers!
This month, we are adding new decors, available universally in all biomes!

Glowing Death Skullcap


Lunar Fly Agaric


Lunar Deer Mushrooms


Lunar Polyporus Mushrooms


Glowing Chanterelle


Lunar Blewit Log


Lunar Wood Ear Fungi




This includes a set unique to this month, based on the small Supermoon event in real life - Buck Supermoon!  These decors will be available every time supermoon falls on July.

Supercharged Buck


Lunar Fawn


Buck Supermoon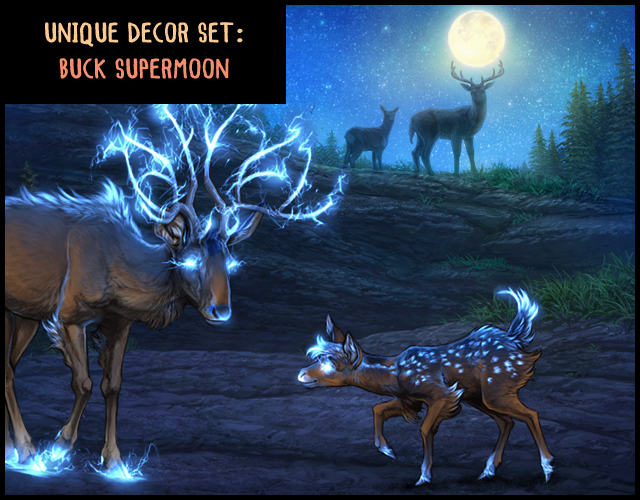 Posted 2022-07-14 23:40:33

The base looks pretty

🐁RatProphet🐀
#931


Posted 2022-07-14 23:40:43

lunar event !!! excited :3

🦇 eddie 🦇
#11523


Posted 2022-07-14 23:40:44

Love the new background! And the base is pretty neat this time round! Thanks!

wink
#26881


Posted 2022-07-14 23:40:53

yay, super hyped!!

lavendoe
#2406


Posted 2022-07-14 23:41:56

oh man that new base!  And that new background *_*

Moonikin
#560


Posted 2022-07-14 23:42:07

can't wait!

blaqqula
#246


Posted 2022-07-14 23:42:14

Wow! I've read about the buck Supermoon! What is a Supermoon?

Lucia
#65562


Posted 2022-07-14 23:42:36

Great news, thank you!

Samson1427
#7523